Too often in the garden practical things are just not good to look at or just plain drab, when with just a little bit of imagination they can enliven the garden. Colourful cane toppers can help protect eyes and faces from potential injury from the sharp ends of canes used to support plants in the garden. They can also add a cheery splash of colour and give children a chance to use their creative talents to decorate the garden.
In fact the cane toppers don't have to be used to cap existing canes, mounted on a length of painted dowel, they can simply be pushed into pots or the soil amongst plants as an eye-catching finishing touch.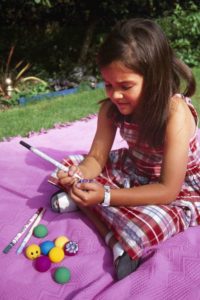 This creative, practical project is a really manageable way for children to contribute to the garden. A few dowels with toppers that they have decorated pushed into their area of the garden, if they have one, would underline their ownership. Seeing their artwork displayed outside gives the children an interest and pride in the garden. All of which hopefully encourages them to get outside and embark upon other garden projects.
These cane toppers are made using table tennis balls because they are a good size, durable and provide a great blank canvas for children to decorate. There are plenty of other things that could be used to make the ends of canes used to support plants more visible and less likely to cause injury or just provide a dash of colour. Empty plastic squash or flavoured milk drink bottles naturally lend themselves to sitting on top of a garden cane and give more space for painting than the tiny table tennis ball.
Upturned terracotta pots might suit some gardens better, these are easily painted with straightforward acrylic paints. Unfortunately they do not sit as easily on the cane as the balls or the bottles and are prone to wobble off their canes in windy weather. If you protect fruit bushes in your garden with nets from the sharp eyed birds, all of these cane toppers can be used to support the nets and prevent them tearing or slipping over the ends of the cane.
How to make the cane toppers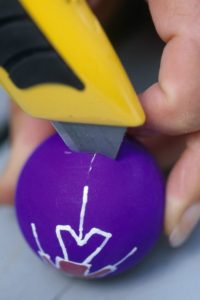 You will need:
Acrylic paint
Table tennis balls
Waterproof permanent markers
Canes or 1cm dowel
Paint the balls using the acrylic paint. Spiking each ball onto a chopstick or something similar by which it can be held makes painting far simpler. Prop the balls still on their sticks in a mug to dry.
When the paint is dry use the waterproof markers to decorate the painted balls. You could also glue on decorations like florists beads, plastic beads, plastic figures or anything else which will stand up to being outside.
Next an adult should carefully cut a cross in the base of each decorated ball so it can be pushed on to the top of the cane or dowel, keep the cross as small as possible so the ball sits securely on the cane. Push the ball onto the end of a painted dowel or cane and they are ready to place in the garden.