In his regular blog for Richard Jackson Garden, Geoff Stonebanks shares his hard earned knowledge about growing in planters with hints and tips on container care and container gardening.
Over the years, my garden at Driftwood by Sea, has become well-known for its range of containers, over 300 last summer. My philosophy, as a non-educated or trained gardener, has always been "anything can grow in a container, providing you look after it." I've had annuals, shrubs, small trees, hedges all growing in containers, I guess, you name it, I've tried it! What's more I have to battle the elements because I live on the coast, so there are lots of things to consider.
Why plant in containers?
Containers of all sizes and shapes, overflowing with flowers can add great appeal to any garden, but can also serve a truly practical purpose too.
Planters can certainly be the perfect solution for those with little or no garden space. In addition to growing flowers, gardeners limited to a balcony, small plot, or only a patch of sun on their drive can produce a surprisingly wide variety of garden interest in containers. Containers also add versatility to gardens, large and small. The plants lend instant colour, provide a focal point in the garden, or tie in the architecture of the house to the garden. You can place them on the ground or on a pedestal, mount them on a windowsill, or hang them from your porch. A pair of matching containers on either side of the front walk serves as a welcoming decoration, while container gardening on a deck or patio can add colour and ambiance to such outdoor sitting areas.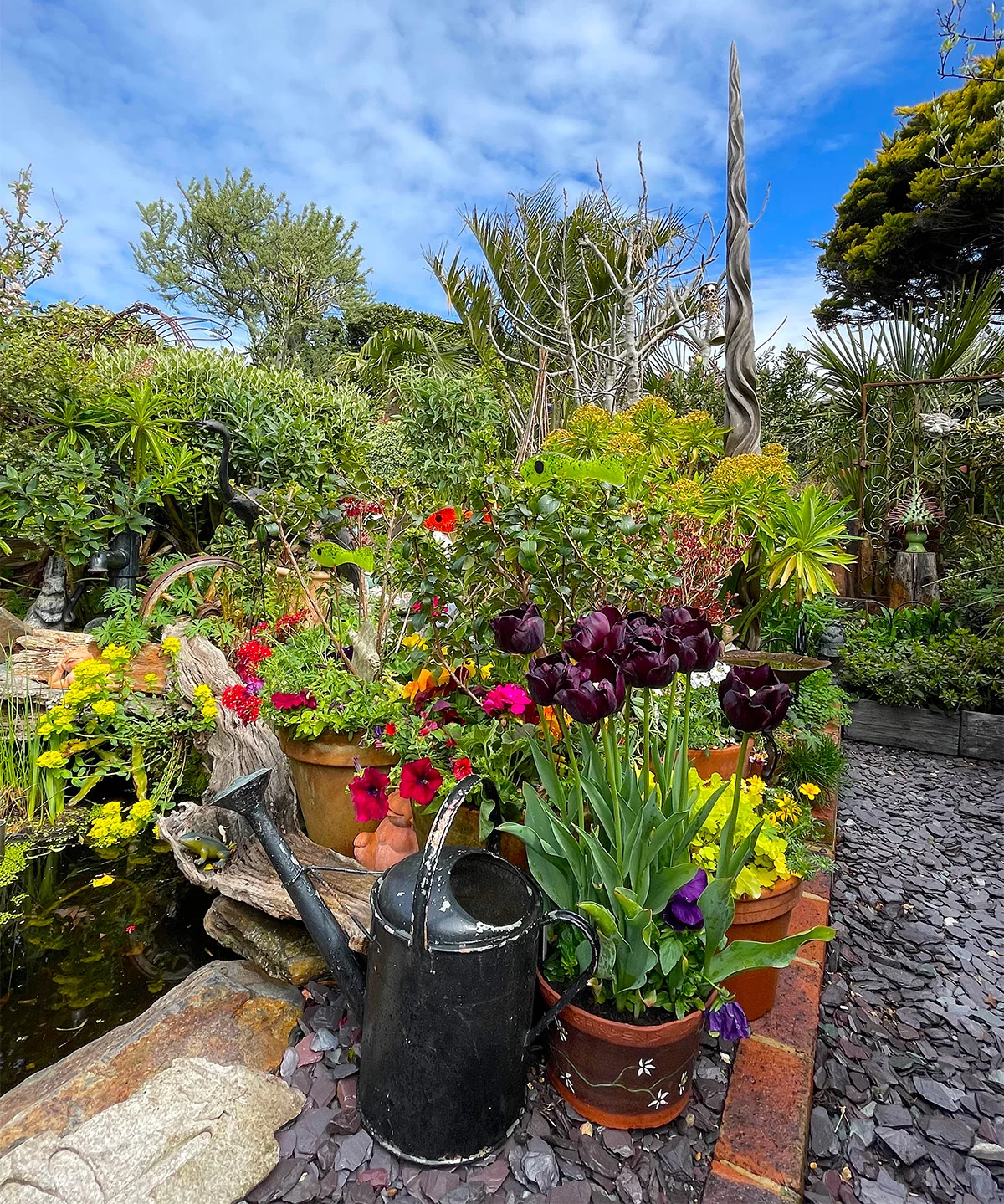 One of the main reasons I chose to use many pots was the flexibility they can provide, allowing you to move them around your plot and change the look of the garden every year! I arrange a selection on the narrow patio at the back of the house every year. Keep in mind that it's easier to grow plants in large containers than small ones. That's because large containers hold more soil, which stays moist longer and resists rapid temperature fluctuations. Small hanging baskets are especially prone to drying out, and during hot summer weather, you may have to water them twice a day to keep plants alive.
Choosing container plants
Containers planted with a single species, pansies for example can be stunning garden accents. Others planted with a mix of plants are fun to create and offer almost unlimited possibilities of combinations. The best combinations depend on plants that feature handsome foliage and flowers produced over a long flowering season. I love to use geraniums, petunias, busy lizzies and verbena.
One easy guideline for choosing the plants to combine in a container is to include "a thriller, a spiller, and a filler." A great quote I recently found in a book. That could translate to at least one focal-point plant (the thriller), such as coleus or a geranium with multi-coloured leaves, for example, combined with several plants that spill over the edge of the pots, such as petunias, bacopa or creeping zinnias. Finally, add the fillers, which are plants with smaller leaves and flowers that add colour and fill in the arrangement all season long.
Good fillers include salvias, verbenas and begonias, as well as foliage plants like ivy or helichrysum plants. You may also want to include a plant for height, such as standard fuchsia. By adding a sculpture to a container, like this mosaic seagull (see below), you can add height to the composition. I reckon you will need a total of five or six plants for an 18 or 24-inch container, but go with your gut feel.
Which plants work well in pots?
Almost any vegetable, flower, herb, shrub, or small tree can grow successfully in a container. Dwarf and compact cultivars are best, especially for smaller pots. Select plants to suit the climate and the amount of sun or shade they will receive. I've always adopted the view that I'll buy plants that I really like and then worry about how I will make it survive in my garden. To date I've had quite a good hit rate. At the end of the day the plant has 2 choices, sink or swim but with the tender loving care of an inspired gardener, anything is possible. So, overall, my recommendation is just go for it.
I love a challenge and I have several large camellias growing along the back wall of the house, all in a variety of containers, below a wire plant from New Zealand with a mix of geraniums and helichrysum in terracotta pots.
Wrapped around the summerhouse area I have a collection of succulents, which work extremely well in containers but will need winter protection.
Container Care
It is important to ensure you water container plants thoroughly. How often depends on many factors such as weather, plant size, and pot size. Don't let soil in containers dry out completely, as it is hard to rewet. In order to keep large containers attractive, spread a layer of bark chip or small gravel on the soil surface, as you would in the garden. This will also help retain moisture.
Container plants need regular feeding. If I'm being really honest, I don't change the compost in my containers that often. However, I do ensure that I feed them all religiously throughout the summer months. What better than to use Richard Jackson Flower Power, a product I've used every year since 2015 with some amazing results.
Since containers are focal points in the garden, you will probably want to give them special attention to keep them looking their best. I check them weekly and remove tattered leaves and deadhead spent flowers. If plants get leggy or stop blooming try pruning them right back. To keep mixed pots attractive, dig out or cut back any plants that don't grow well or that clash. You can add something else or let other plants in the container fill the space. Each container can be a work in progress throughout the summer but keep an eye out for pests like aphids and mites.