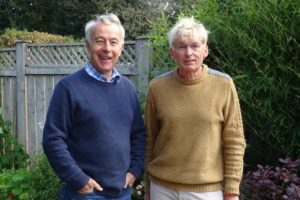 Back at the beginning of September, I spotted a post on social media from Richard Jackson and the QVC Shopping channel, that they were looking for genuine customers, to feature real gardeners, who have had great experiences using Flower Power and other products in Richard Jackson's range. Was I happy to share my experience? Well! How could I resist? I've been using Flower Power now for 2 years and have seen some amazing results and recommended it to over 4000 visitors to my garden in that time.
The post also said the chosen few would get a mini-makeover, well that sealed the deal for me. I applied. To be brutally honest, I'd never bought from QVC before, because Richard has generously donated Flower Power to me, over the last 2 years, in support of the wonderful fundraising my garden has achieved.
Invitation
You can imagine my surprise then to receive an invite from QVC to join 6 other fellow gardeners on film location in Chiswick on the 14th of the month. Big problem for me though. My front crown had fallen out 2 weeks before and the 14th was the date the new one was due to be fitted. Panic, I couldn't be filmed minus a front tooth. Calls with my dentist to shift the date were fortunately successful and I was able to accept the fabulous invitation.
Not only were we invited to the film shoot but were offered a guided tour of the QVC studios in West London. As I said earlier I've never bought from them before. I have to admit though to being super impressed with the totally slick operation I saw that morning. The whole experience from being met at reception, the guided tour and the way the studios were operated, products and people prepared for live broadcasts, you'd have found it extremely difficult indeed not to have been impressed.
On-location
We were then taken by taxi to a private garden in Chiswick that was being used as the location shoot for the day. Here again, a fabulous QVC crew greeted us, along with Richard himself, who was an extremely genial host throughout the day, talking to each of us about our gardening experiences and making us all feel totally at home.
First up on the days agenda was a mini-makeover, for everyone including the two guys in the party. I started the ball rolling with a 20-minute interview, on camera, being asked questions about my own award winning garden and the impact Flower Power has had on it. I was extremely flattered when told it had gone really well, as I had completed it all in just one take. Must be all the practice I'd had when filmed for BBC Gardeners' World in 2016 and ITV's Good Morning Britain in 2014. Following the interview, it was out into the garden for some shots of me using the product and watering some of the on-location containers. This, plus the cut-away and close-up shots were great fun too. The other guests were then invited to do the same in relation to the amazing products they were using, such as Lawn magic, Root Booster, Container Magic or Richard's Premium Bird Food.
At lunchtime we were all treated to a fabulous and plentiful buffet lunch, not to mention the on tap beverages that Rebecca Jepson, a QVC Video Content Promotions Co-ordinator, offered us throughout the day.
A rosy ending
At the end of filming we were all handed a fabulous goody bag, with lots of ladies cosmetics included, which I've offered to my garden volunteers, but some of Richard's products too, which I've naturally kept for myself.
A great way to close the day was to find that Richard Jackson has, most generously, agreed to sponsor the Macmillan Coastal Garden Trail that I organise annually between Brighton and Eastbourne again for the 3rd year! The deal was struck with a handshake.
On behalf of the 7 chosen few, I'd like to thank, most sincerely, the QVC team, both at the studios and on location. Most importantly to thank Richard himself for a thoroughly enjoyable day, one I hope may be repeated again soon. Look out for the filmed clips on QVC Shopping channel this autumn or early next year.
PS: So impressed was I with QVC as a whole that I have to admit to signing up and becoming a member since returning home.