For instant festive impact poinsettias are the go to plant, but there are lots of creative ways to enjoy them says Jean Vernon.
Ring the changes and use poinsettias as the star of your indoor decorations, these naturally bright and beautiful plants shout festive cheer from every bract. You can place plants around the home for instant impact, or why not be a bit more creative? Here are five different ways to use poinsettias this Christmas.
Advent calendars
Count down the days to your Christmas using an advent calendar with a twist. Bespoke, extravagant advent calendars cost a fortune, but you can make this one very easily recycling fabric and using some twigs from the garden. Instead of little windows to open, make some little fabric bags, you'll need 24. Cut four or five fairly thick stems from the garden, birch is a good material to use. Create a tree shape using the twigs and some string. Hang it on the wall and attach little test tubes of water to hold the poinsettia flowers and then hang the numbered bags along the stems. Add some little gifts or sweets to the bag and you've got a fabulous homemade advent calendar.
Poinsettia wreath
Circles of flowers and foliage are a traditional way to decorate a front door, but it doesn't need to stop there, Make a simple leafy wreath for a door indoors and then add a few poinsettia 'flowers' to add a splash of colour. Remember these plants don't like cold and draughts, so this won't work on the front door, but will brighten the house for the big day and welcome guests if they are allowed to visit.
Table decorations
Add a splash of colour and drama to the table with a potted poinsettia. It can be as simple as a beautiful plant placed inside a sparkly pot, or you can take the flowers and make a special arrangement using candles and glitzy Christmas baubles. Be creative and make something magical for your centrepiece.
NB – be aware of the danger of candles. Place them carefully so that they don't ignite other materials and never leave lit candles unattended.
Place markers
Poinsettias come in different sizes. Look out for tiny plants that can be used as place markers on your dining table, or cut the flowers from a larger plant and use tiny vases and a place name for your companions. Glass test tubes or tiny jam jars make a simple container for water and flowers.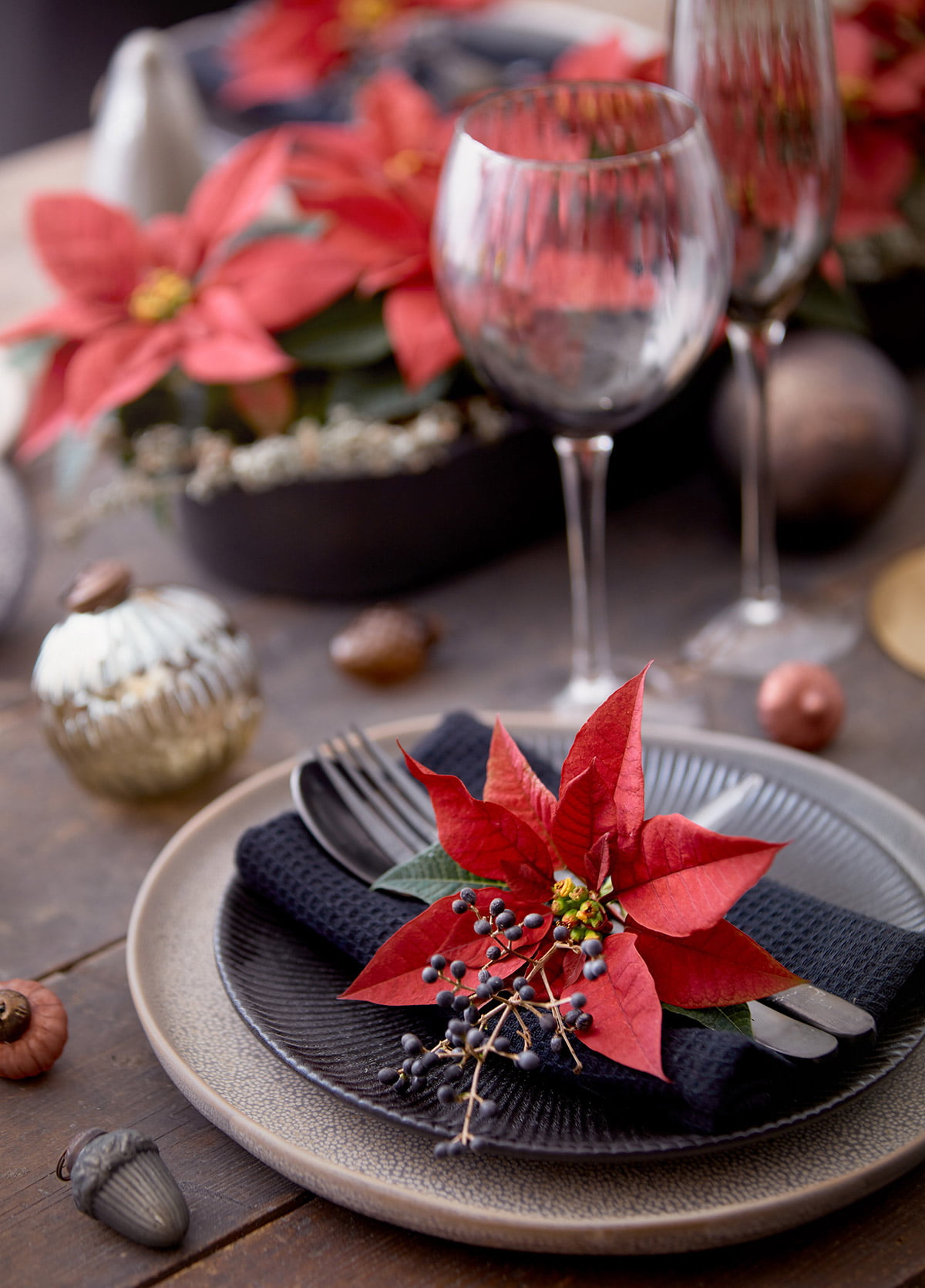 Recycled wall plaques
This Christmas we are all trying to be a bit more self-sufficient. Recycling and re-using materials is a great way to be creative. This wall display uses reclaimed wooden boards and up cycled tin cans. You need to add a hanging wire to the boards, clean, paint and decorate the cans then add little potted poinsettias to complete the look.
Florists' tips of the trade
With enough water, cut poinsettias stay fresh for up to two weeks. For best results, first immerse the stems in hot water (60°C) for a few seconds immediately after cutting, and then put them in cold water.
Find many more ideas for decorating with poinsettias at www.starsuniteeurope.eu