Sometimes we forget about the vertical surfaces in our gardens, and yet in our homes we fill them with art. Why not transform a wall or a fence with something more decorative to create more of a focal point in the garden. You can opt for a decorative screen that makes an ornamental divide or use some wall art to add interest to an otherwise bare area. Here are five ideas we found at RHS Chelsea 2019.
Perennial Rose wall panel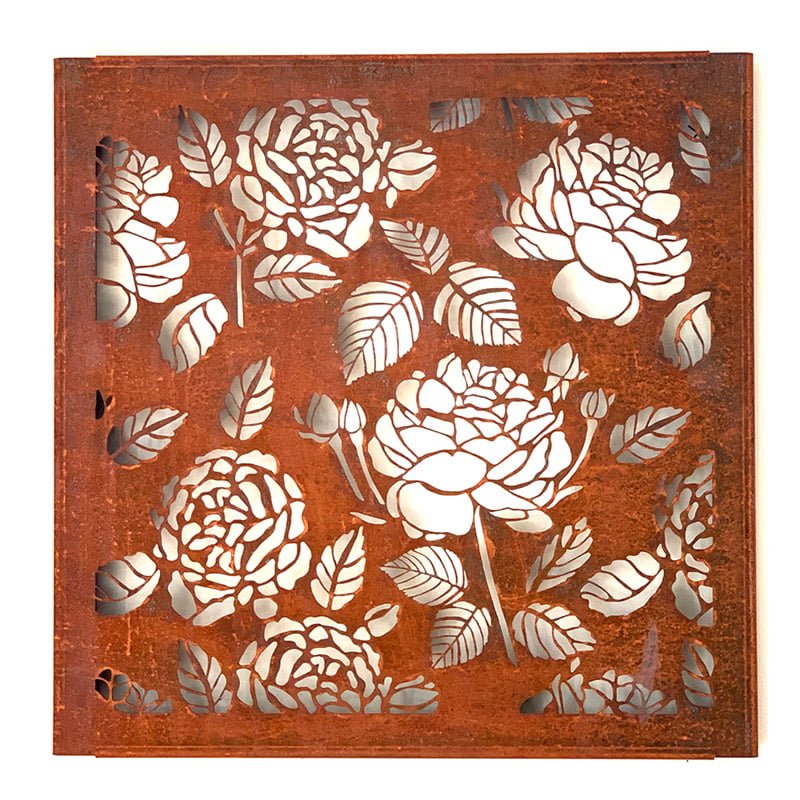 This beautiful decorative Perennial wall panel by Stark & Greensmith is made from Corten steel and captures the timeless beauty of the rose with a pattern that includes full blooms, budded stems and leaves. Each limited edition piece has been finished by hand and will weather over time to develop a beautiful rich rusted patina. It can be hung as a single panel or as part of a group to create a striking feature either outside or inside.
Price: £149.
Rusted Monstera leaves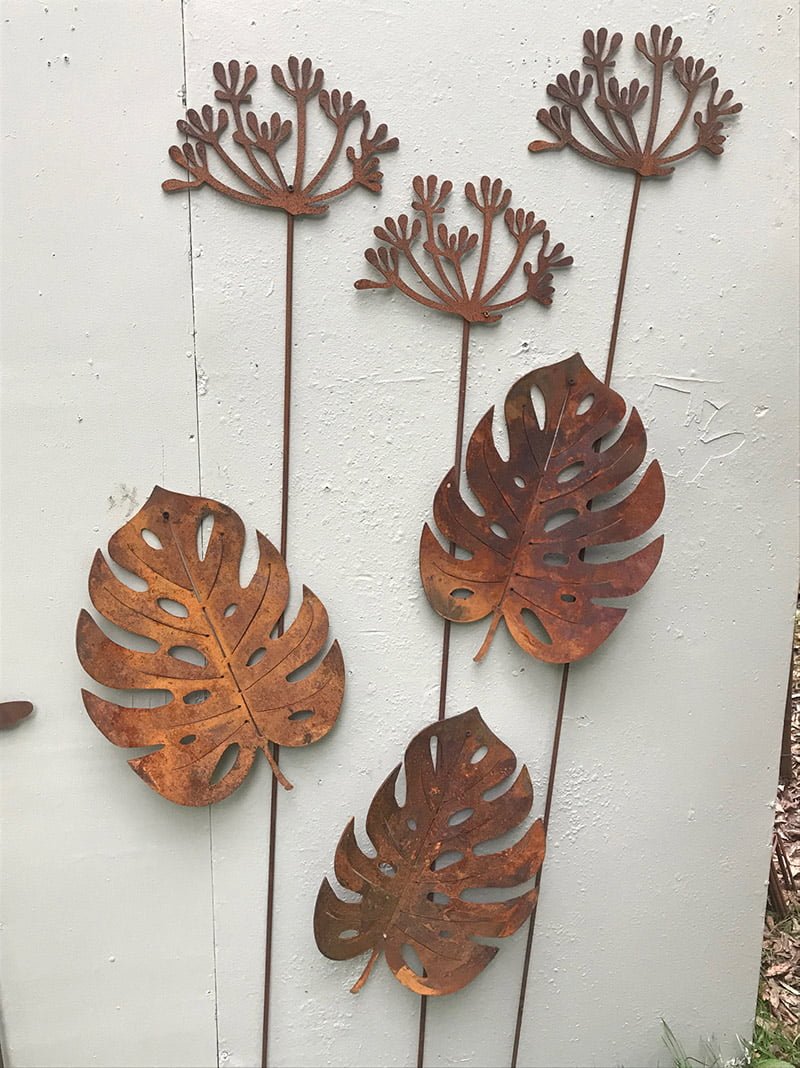 Rusted metal is on-trend. Houseplants are in vogue. So these rusted cheese plant leaves from Tom Critchley are the perfect addition for a garden or house wall. Life size and realistic they will look great in an urban or period setting. These are only available at the RHS Shows, Malvern and Harrogate this season, they are not available mail order. Price £20 for the monstera leaves.
Tree of Life Illuminated Wall Mount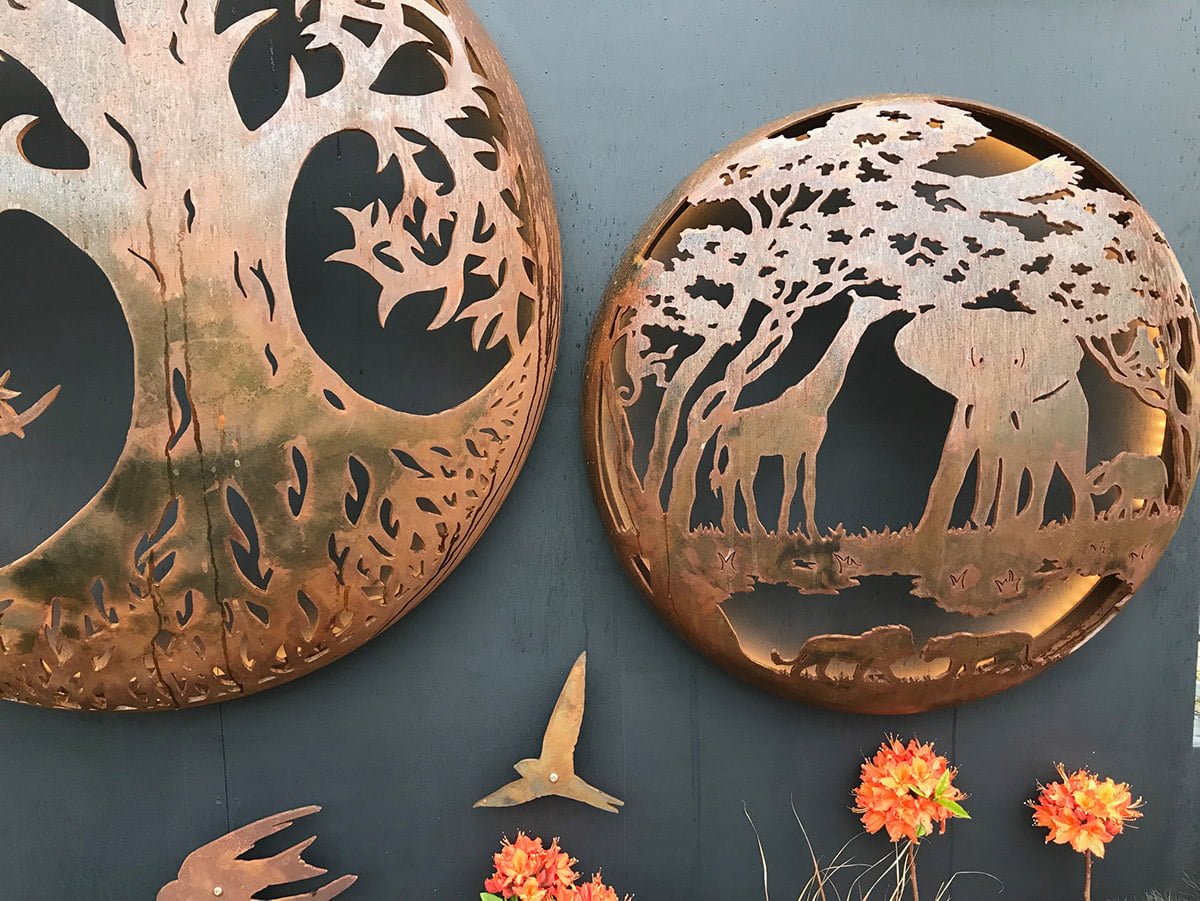 If you are looking for a rustic but warm wall decoration this might be the one for you. The Firepit Company has created an illuminated steel wall mount, handmade in the UK. The design shows a tree from root to branch, filling the entire circle of the wall mount, but there are several designs available. It complements the range of fire pits and has an optional warm white LED light to create a soft effect at night too. Price around £699
Cow Parsley & Allium Wall Art
There was a beautiful range of wall art and screens at RHS Chelsea this year and this Hedgerow Wall Art with Blackbirds, Alliums and Cow Parsley really took my eye. It's created by a small, passionate art & design company called A Blackbird Sang, where the poetry and visual ideas of nature are used to produce original work for homes and business. Made from sustainable and recyclable materials to create lasting works of beauty, this one features the silhouettes of cow parsley and alliums in a striking contrast. It's available in three sizes, price from £129.
Bee Post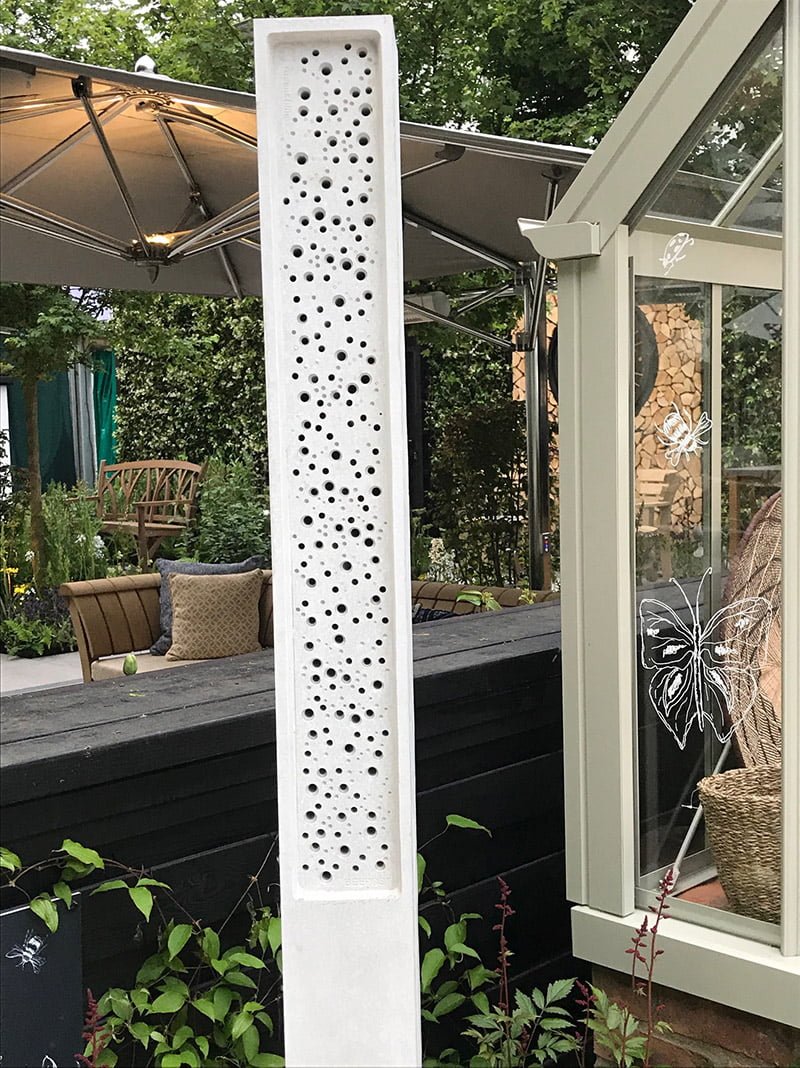 It's not quite wall art but this BeePost is a vertical creation that could adorn a sunny wall. Displayed on the Alitex stand, the BeePost by Green and Blue is a sculpture, a bee house and a vertical sculpture. It could be wall mounted or it can stand-alone and become a versatile piece of wall art on a south-facing wall. It's a bee tower designed to create a nesting site for solitary bees. Price from around £535.