The RNIB Community Garden 426
Designed by Steve Dimmock and Paula Holland
This sensory garden ticks all the boxes. It's a contrasting mix of fragrant and aromatic plants presented in a soft palette of beautiful mauves and yellows. Hard contrasting corten steel dividers have been cut with filtered windows to offer a glimpse of impaired vision to the onlooker without detracting from the whole effect. The staggered heights of the plants, together with their see-through presence adds texture to the whole and gently whispers in the summer breeze, but it is the volatile oils, released under the heat of the sun that adds the final dimension to the creation. It's packed full of fabulous agastache, lavender, nepeta, perovskia and verbena. Stand a moment and be mindful of the sounds, sight and smells of this garden, a conscious reminder of the preciousness of our senses and how lost we would be without them.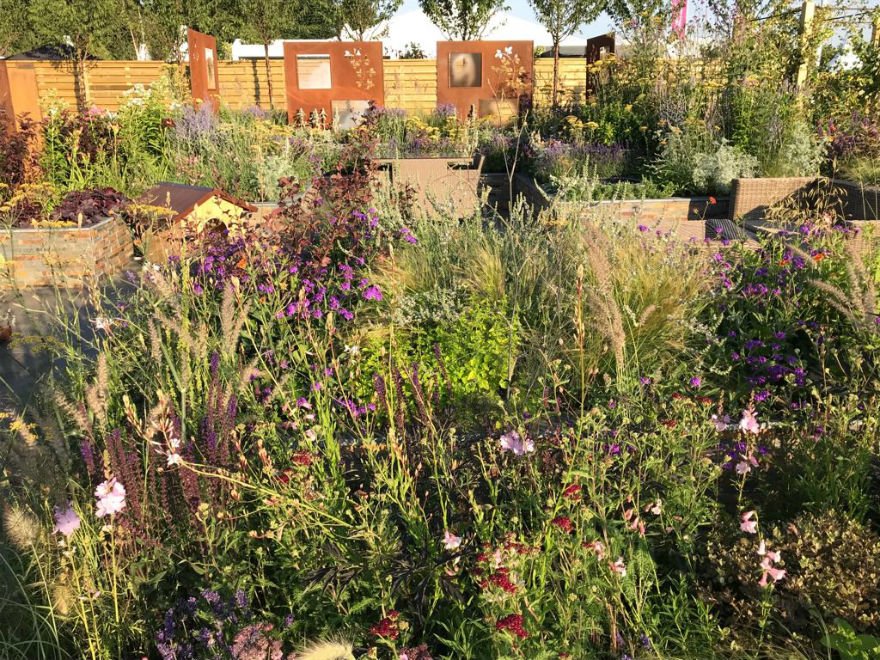 Best of both Worlds 335
Designed by Rosemary Coldstream
What do you do when your garden tastes are in total contrast with your partner? You create a design that offers the Best of Both Worlds. Which is exactly what Rosemary Coldstream has done with this show garden. On one side is the evocative, soft and ethereal country garden full of fragrant roses and behind the neatly clipped hornbeam division on the other side lies a more contemporary space with harder lines and simpler planting. It offers plenty of ideas for most garden situations, including a water feature that suits both extremes and plants that conjure just the right effect and capture the essence of each design.
Apeiron: The Dibond Garden 805
Designed by Alex Rainford-Roberts
The planting in this garden is simply divine and most of it is actually inside a large, rusted metal box. It's a textured mix of Ammi majus, veronicastrum, alliums, cornflowers, verbena, scabious and a mix of exquisite botanics that create a soft and beautiful dreamscape. Reflected in multiple it's a reminder to be in the present moment and experience and enjoy the perfect present through our own eyes and not through a lens of a phone or a camera. This is not the place for selfies, or recording the moments, but a snapshot of beauty filled with our own memories and our own take on its beauty. Outside the darker, starker planting evokes contrasting emotions. It's an evocative creation, offering an immersive experience and well worth a closer look.
The Santa Rita Living Garden 452
Designed by Alan Rudden Garden Design
I love the simplicity of the colour palette in this garden. The clear, fresh rich oxide yellow walls and screening lift the design and contrast with the fresh lush green evergreen planting, with blue agapanthus accents. It's a contemporary space offering a taste of Chile. Arid planting of agaves and aloes contrast with the soft silver and pink spires of lambs ears (Stachy byzantina), rich purple salvias and the strikingly elegant velvety leaves of the on-trend Angels Wings Senecio.
Elements Mystique Garden 655
Designed by Elements Garden Design
There is something quite hypnotic about this small show garden. In the early morning light the contrasting colours and textures stand out spectacularly. The garden is inspired by the work of Belgian sculptor William Roobrouk and showcases a corten steel sphere, representing a fallen meteor. The surrounding planting has a charred and blackened effect, scorched vegetation and ruptured paving from the impact from outerspace. A mix of black foliage plants and brick red heleniums add rich accents to the design.