With 42 Show Gardens at this year's Hampton Court it's a treasure trove of garden design and plant combinations.
There are so many great gardens at this year's Hampton Court that it's hard to choose just five, so I've cheated a bit and chosen five favourite small gardens and five fabulous show gardens.
The bigger show gardens have more space to create an impact and introduce more adventurous elements of design, structures and planting. These are the ones that got me thinking or really caught my attention. In no particular order.
1 The World Vision Garden (HC536)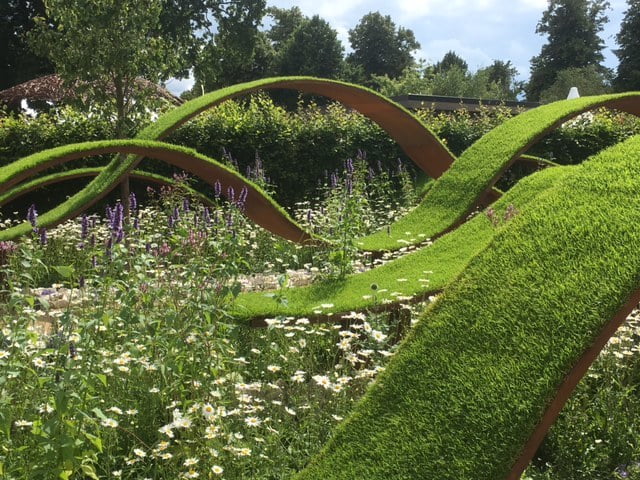 I love the lines of this garden. It's inspired by the unpredictable lives of children from around the world and features undulating floating waves of turf, each one the life of a child, struggling through the stages of their lives. A sea of ox-eye daisies creates a meadow effect, interspersed with agastache and echinops, recreating the idea of a childhood free from struggle and fear. It's a bright inspiring effect and very though provoking.
2 Zoflora: Outstanding Natural Beauty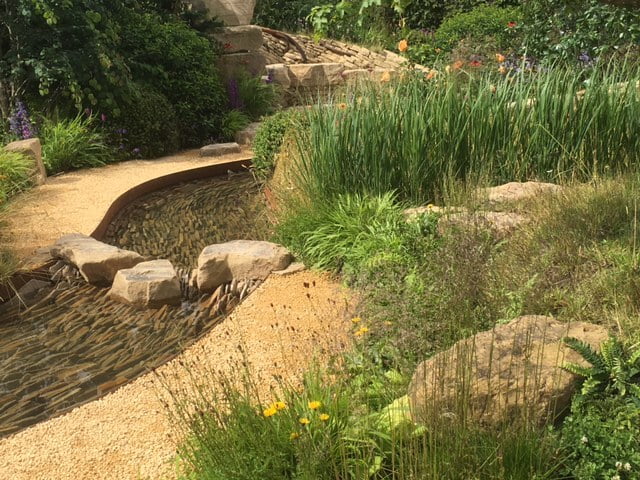 This weather washed landscape reflects the patterns of Yorkshire using water and a stone and rusted steel seating area. The design flows from a rocky outcrop down through a lush planting alongside a water flow that links the whole garden. Lined with stacked slates beneath the water and edged with golden gravel and a hedge of tall grasses. I love the rich planting, a mix of orange peachy roses, tall campanulas and peachy echinacea interspersed with cosmos and nicotiana.
3 Dogs Trust: A Dogs Life HC501
I'll be the first to admit I'm a dog lover, but this garden is beautiful in its own right and has a lovely, dog friendly message too. As the charity celebrates its 125th anniversary, it remains committed to finding loving homes for thousands of homeless dogs every year. The garden is a mix of formal lawn, laid out to give space for the human owners and the dogs to run. It includes subtle dog-friendly features including tunnels and sniffer tracks within the herbaceous borders. Soft planting using hues of blue and yellow create a gentle effect in the dappled shade. And a large, wide pebble filled water feature, stark against the rest of the garden reminds us what a lonely place the world can be for a stray dog.
4 The WWT Working Wetlands Garden
This water garden is a haven for wildlife and gives plenty of ideas for gardens and gardeners under threat of flooding to support and enhance the journey of water from our plots into the environment. Water from the roof drains into a mini wetland that filters the water before it passes into the wildlife pond. There are rainwater collection systems from the garden paths and pavilion and a rain chain that directs water into the wetlands. The lush planting includes plenty of pollinator and wildlife friendly plants such as cornflowers, teasels, scabious and foxgloves.
5 Striving for Survival HC802
This striking garden celebrates the increased survival rate of cancer sufferers, which has doubled in the last 40 years but also draws attention to those diagnosed with Pancreatic Cancer, where only 3% survive after 5 years. 97 Stark stained black branches represent those that succumb to this cruel disease. The rich planting area of soft orange echinaceas, diascias, sage, primulas, eupatorium mixed with grasses is a vibrant effect, reflecting the positive advances in research. But the sparse graveyard of dead stems reminds us that there is so much more to be done. It's a moving space and food for thought.