Flower Shows are pretty much on hold this year. It's been a time of reflection, contemplation and re-planning for many gardeners. Stepping back to see your garden from a different angle and changing a few things to make enjoying your plot is a great way to make more of your garden. Small scale changes can make quite a difference. Here are some ideas that we've admired at previous RHS Hampton Court Flower Shows.
Wall crates
Some times you want to make a focal point on a vertical surface. The lovely Katie's Garden from 2016 featured some lovely wooden crates attached to the fence. They were used to display a variety of decorative items.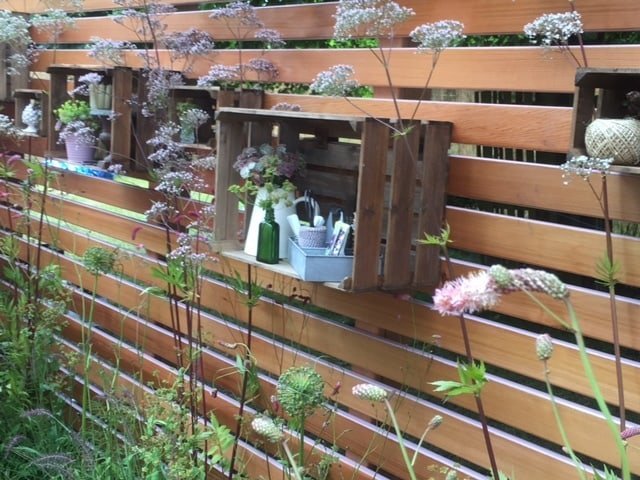 Pine cones. Jugs of flowers. Glass bottles. Balls of string. They make lovely open cupboards and could be used to display little potted plants or anything you choose. You can dress them up for special occassions, colour theme them to suit your garden, or use them while entertaining al-fresco.
Sails for shade
We've all used a garden parasol to create some shade in the garden. In hot weather they can create vital shade. The latest trend is to use a sail or a piece of canvas strung out between several places overhead to block the sunlight over a seating area, patio or garden terrace. In 2019, the Year of Green Action Show Garden there was a garden sail and a hammock used for the same result, to create an area of shade.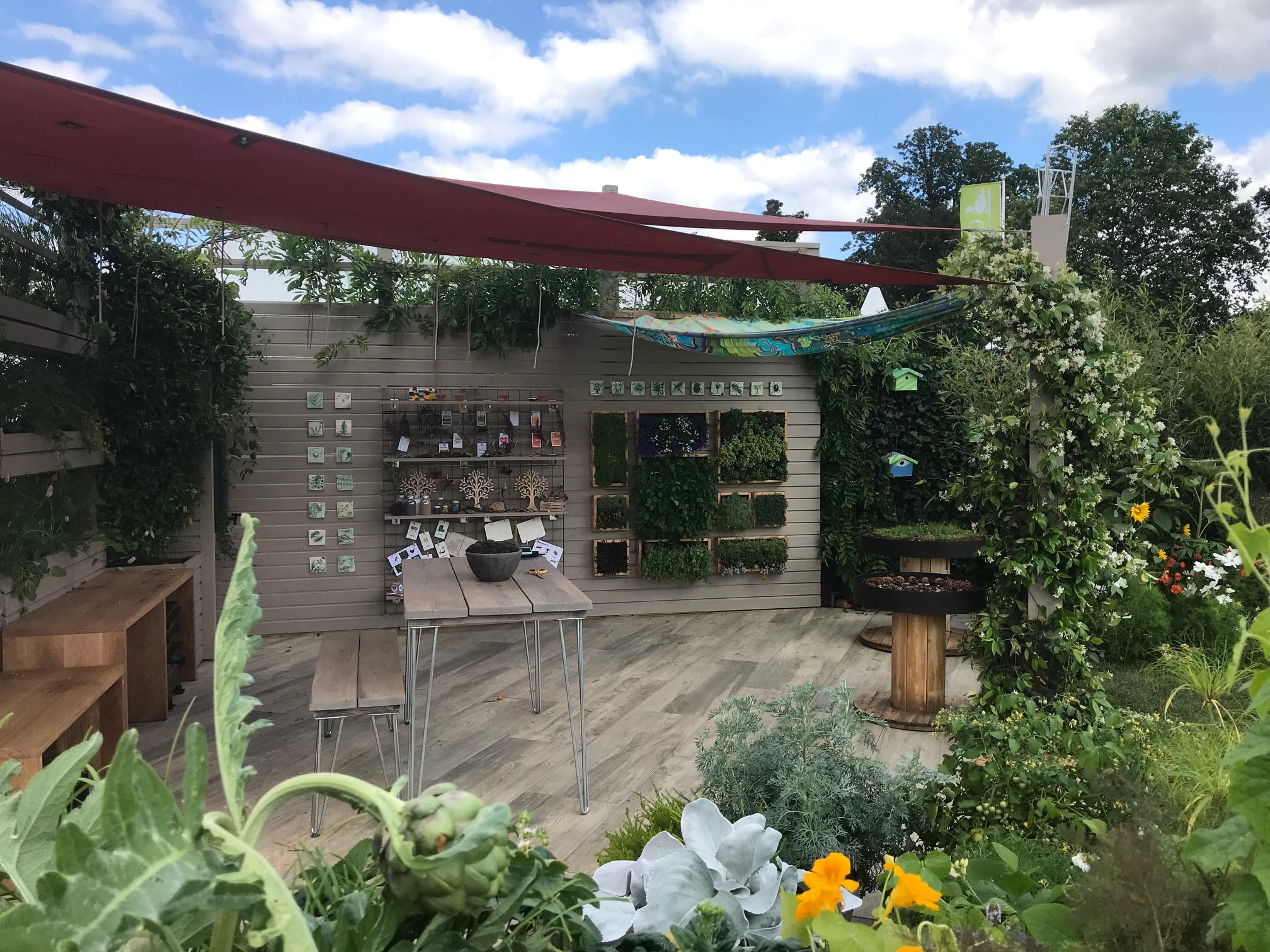 Whether you use a new hammock or an old one, that's up to you, but it's a great way to recycle or up-cycle a hammock that may be taking up space in your shed. Just stretch it out above head height and let it cast its shade below.
Ornamental bricks
Old bricks are a useful building material in the garden. Sometimes they look just great in their rich terracotta hues. But if you want to give them a new lease of life, take a leaf out of the Community Allotments display in the Growing Ideas in Tolworth, ShedX garden from 2019 , where the bricks have been stenciled and used to divide the beds and borders.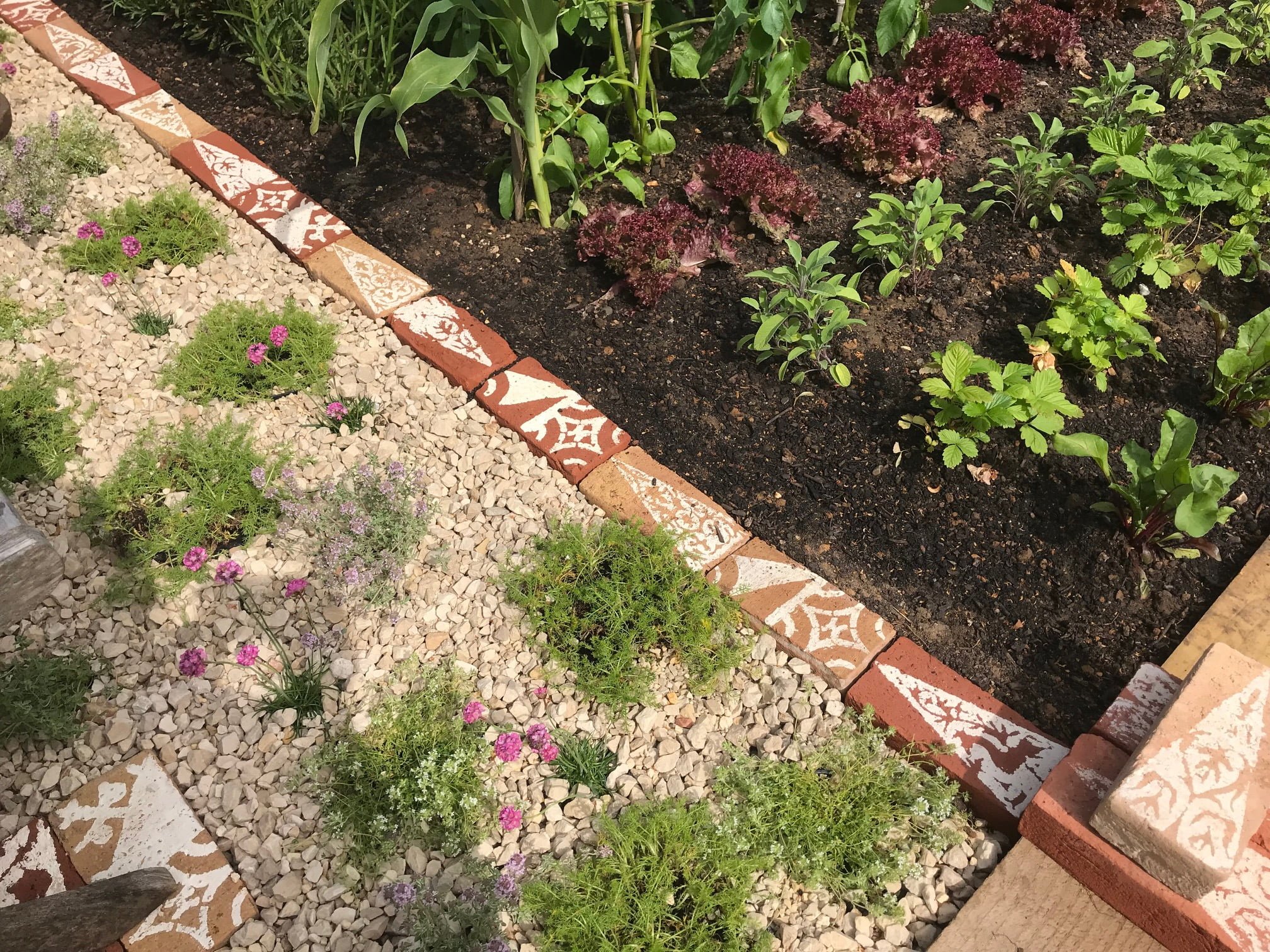 It's a simple but very effective idea that turns something that might be regarded as mundane into a very neat and attractive idea.
Floating flowers
Create a magical and pretty instant floral display in the garden by floating flower heads in a bowl of water. On Katie's Garden, in 2016 there was a beautiful display of floating pink dahlia heads within the main rusted water feature.
They looked stunning. You could recreate the idea using any water container, just by adding a few cut flowers. Or why not use the idea as a table decoration and float some flower heads in a bowl of water on your outdoor dining table?
Gabion walls
It's not always easy creating a garden wall. You often need footings to ensure that the wall is safe and stable. And what happens if you need to move the wall, or if you want to plant it too? In 2016 On the BBC Kent's Beachscape Oyster Garden there were some interesting pebble filled gabion baskets used to create a neat, low wall.
Planted with sea-washed succulents and seasoned with handmade clay fossils made by the local school children, the gabions made an interesting and easy to recreate garden boundary.