Everyone who has a lawn would love one that Tom Jones would be proud of. That was what he was singing about in the Green, Green Grass Of Home, wasn't it? If yours isn't a lush, verdant patch of loveliness, then it may be time to consider your lawn care routine. Get out your calendar – or Richard Jackson Diary – and mark in it what needs doing when.
To have the best lawn in the neighbourhood does involve some timely operations carried out throughout the year. So, here's my calendar of hints, tips and advice.
Spring Lawn Care
Mowing is the single most important factor when it comes to having a beautiful lawn. Grass grows at temperatures of 5C (41F) and above, so forget about the "When do I start mowing?" question – you never stop! The only thing that should prevent you getting out the mower is if the grass/soil is too wet and/or frozen.
Most people mow their lawns far too low, scalping the grass, or too infrequently, both of which weaken it and allow weeds and moss to establish. For the best quality lawns, it should be cut whenever it reaches a height that can be cut. Ideally, you should simply "tip" the grass at each cut, and certainly not remove more than one-third of its height at any one time. 
And keep the grass at more-or-less the same height all year round. For normal lawns that take a lot of wear and tear the height should be around 4-5cm (1½-2in). For "bowling green" lawns of fine-leaved grasses this should be about 2-2.5cm (¾-1in). For lawns growing in shaded areas, mow even higher.
All that mowing removes a lot of nutrients and, like all living things, grass needs a good feed to replace these nutrients and give it all the strength needed to grow well – not only up, but sideways too, creating a luscious thick sward that is better equipped to fight off weeds and moss.
You only have to speak to a few of our customers to know that Lawn Magic is the perfect feed for lawns and produces fabulous results. Use it every four to six weeks from March until October.
Spring is also the time when most people start to notice the hidden enemy below – moss! If you haven't mowed correctly or fed the grass, then moss is often a symptom of this neglect. It's also more prevalent on soils that are compact and don't drain well or remain overly wet. If your soil is like this, then aerating with a hollow-tine aerator in spring will help rid you of the moss and improve the growing conditions for the grass too.
Where moss is a problem, Richard's organic, hassle-free, no-rake Moss Remover is the easy way to get it under control.
Spring is also the time when, sadly, lawn weeds start to show their ugly heads too. So if weeds are an issue, use a lawn weedkiller, such as Vitax Lawn Clear or, if moss is also a problem, employ the triple whammy action of Flower Power Lawn Feed, Weed and Mosskiller from April.
Thatch, the build-up of dead grass and other debris, is another thing to be on the lookout for in early spring. It prevents the soil and grass roots from breathing, allows water to sit at the base of the grass, encouraging moss and fungal diseases. A good scarify with a spring-tine rake or, better still, a powered scarifier will help rid you of excess thatch. Scarification is part of the annual lawn care programme, not just done to remedy problems, and should be done every spring – or autumn, or both.
Spring is also a great time to reach for the Premium Triple Use Grass Seed to reseed any bare areas, make any repairs needed and to overcome thin and patchy growth by something called overseeding. Simply scatter grass seed over the whole lawn at the rate of 15-25g per sq m (½-¾oz per sq yard), work it into the soil with the back of a rake or similar and water it in. This is the now not-so-secret weapon used by greenkeepers and groundspeople to produce quality greens and pitches.
And if you think your lawn is well and truly past it, now's the time to start again from scratch and reseed or turf it.
Summer Lawn Care
With all that hive of activity in spring, summer is a bit of a doddle and time to enjoy your lawn.
Regular, proper mowing is still important, but if we're lucky enough to enjoy a prolonged hot, dry summer, it won't grow as much, won't need cutting so frequently and you can slightly raise the height of cut.
Keep up with the regular monthly feeds with Lawn Magic, which will help reduce drought stress, deal with any moss with Moss Remover and weeds and moss with Flower Power Lawn Feed, Weed and Mosskiller.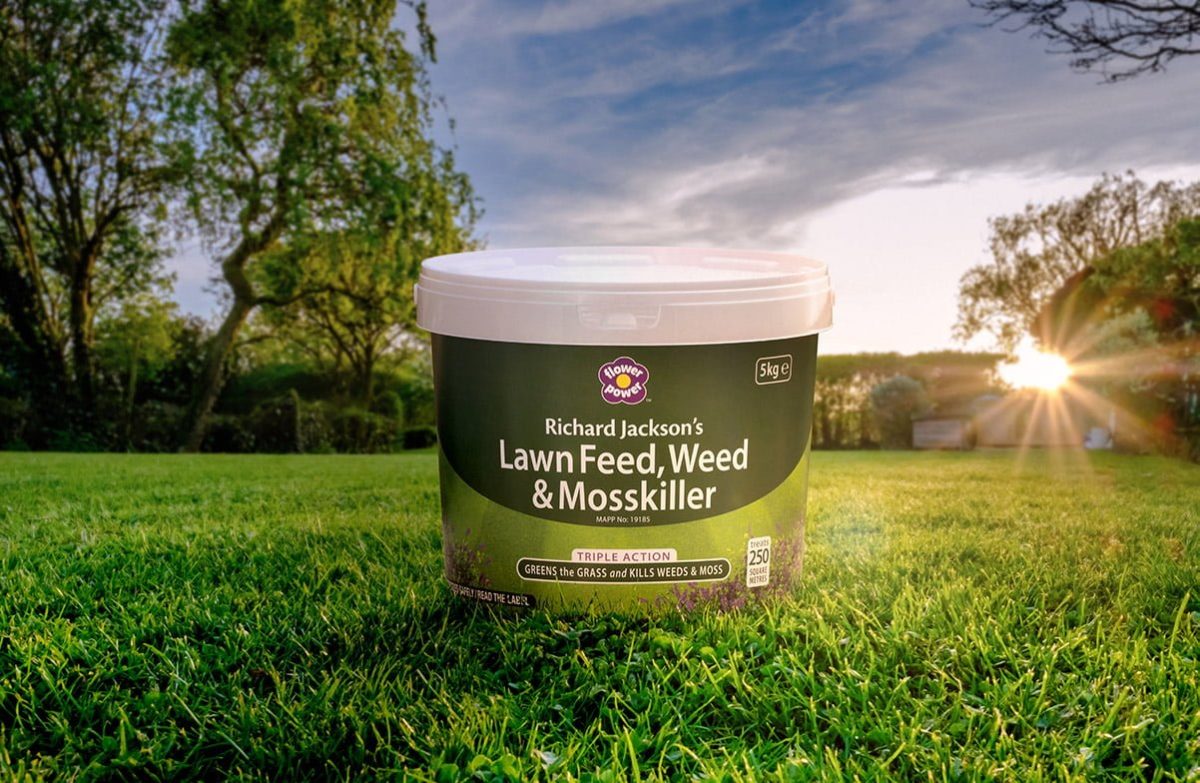 But one drawback of a nice hot summer is that your lawn will be in as much need of a cooling drink as you are. Believe it or not, every square metre (square yard) of lawn loses around 24.5-litres (4½ gallons/square yard) of water per week in summer. And if you want to keep it looking great, you'll need to replace this, with a good watering once a week. Yes, lawns nearly always bounce back and recover in autumn after a drought if they haven't been watered, but the lack of grass growth encourages those two nasties – lawn weeds and moss.
Autumn Lawn Care
As temperatures start to drop, so does grass growth. So, you won't need to mow so frequently, but you still do it whenever the grass needs it.
Give the grass its last feed of the year with Lawn Magic to toughen it up ready for the onslaughts of whatever the winter wants to throw at it.
If you didn't get round to it in spring, this is the other time of year to scarify and aerate with the hollow-tine aerator.
September and early October are also the time to do any reseeding of bare patches with Premium Triple Use Grass Seed and starting a new lawn from scratch with seed or turf.
Winter Lawn Care
It's a peaceful time of year for the proud lawn owner. But keep up that mowing regime whenever the grass is growing and needs a cut, and the grass/soil aren't too wet and/or frozen.