How can you create memories in your own garden? I never really set out to do so at Driftwood, but over time it has just happened! This has been done by a number of different means, the most obvious being to incorporate personal effects or plants into the garden.
Plant memories
When we moved to Seaford in 2004, my one and only Aunt, who I had always been very close to, passed away. She had always been a very passionate gardener and loved her outdoor space. I inherited a number of containers, plants and a tortoise, Hector, from her garden in Hertfordshire. 17 years on and they are all integral parts of my garden here on the south coast. They may not mean much to others but to my family and I, they instantly conjure up loving memories of her! One such plant is a standard Fuchsia 'Geneii' that looks magnificent every summer on the back porch. Each spring, I place a large ceramic container into the centre of the garden that she had in her garden. It contains beautiful lilies and I always say to visitors when they see them, "that's Auntie Margaret, rising like a phoenix every spring to check I'm doing everything properly, then she dies back and I store her behind the studio until next year".
Making memories
In the summer, I always promote my garden as a venue in which others can come and celebrate their own anniversaries or birthdays. This, in turn allows them to create their own special memories to take away. Duncan, Gerard, Mark and Paul booked their garden visit, with lunch and birthday cake, to celebrate one of their birthdays, back in 2018. They had the freedom of the garden to themselves for the visit, followed by their private lunch.
"Thank you. We have the most wonderful memories of visiting your garden and your gracious hospitality."
Mary-Jane Rish, Philadelphia, USA, after seeing a social media repost in 2020, of a July 4th 2016 visit.
The event was an American Independence Day visit by a gardening group from the States to see Sussex gardens. I even baked a special cake for the event too to mark the visit. It is now etched in their memories forever!
Lasting legacy
Providing a memory in your garden can be a thoughtful tribute to someone who has passed away. It can serve as a quiet, reflective place where you can perhaps go to be comforted and inspired, what's more, it can enrich your life by allowing you to have somewhere to feel at peace as you remember your loved one's life. Back in 2007, just before my father died, he gave my brother and I some money he had acquired through selling some shares! I invested mine in a summer house for the garden. It was promptly named Ron's Place. He was able to sit in it, just once, before he passed away and aptly remarked that it should have been called Dad's Place, so it was renamed as you can see. It has many knick-knacks that belonged to him on the shelves in there too.
In a similar vein, wanting to immortalise our four-legged friend Albert our adorable little dog, a rescue Jack Russell, who we got from Battersea Dogs Home in 2006. When he died in October 2019, we decided to put a small stone up in his memory, under the pear tree where he liked to sit. Whilst we now have a new rescue terrier, Chester, it is lovely to spot the stone and remember Albert!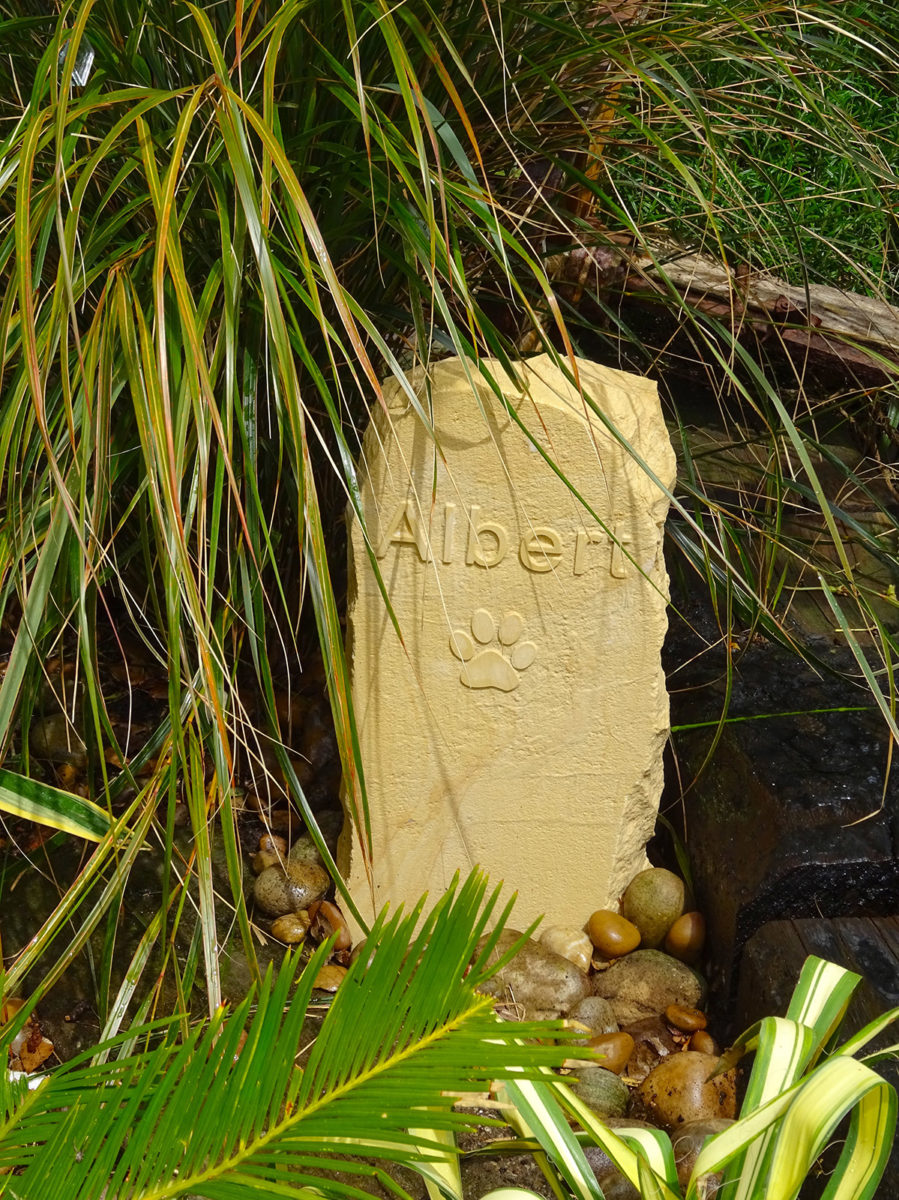 Creating memories
When I created the beach garden at the front of the house, I was able to utilise fish crates that both my father and grandfather had used on the docks, in Fleetwood, back in the late 1950's. My parents had used them to move house and they had remained stored in their garage! Also discovered was a fish basket they had both used too, which still graces the garden every summer, carefully stored in the dry through the winter.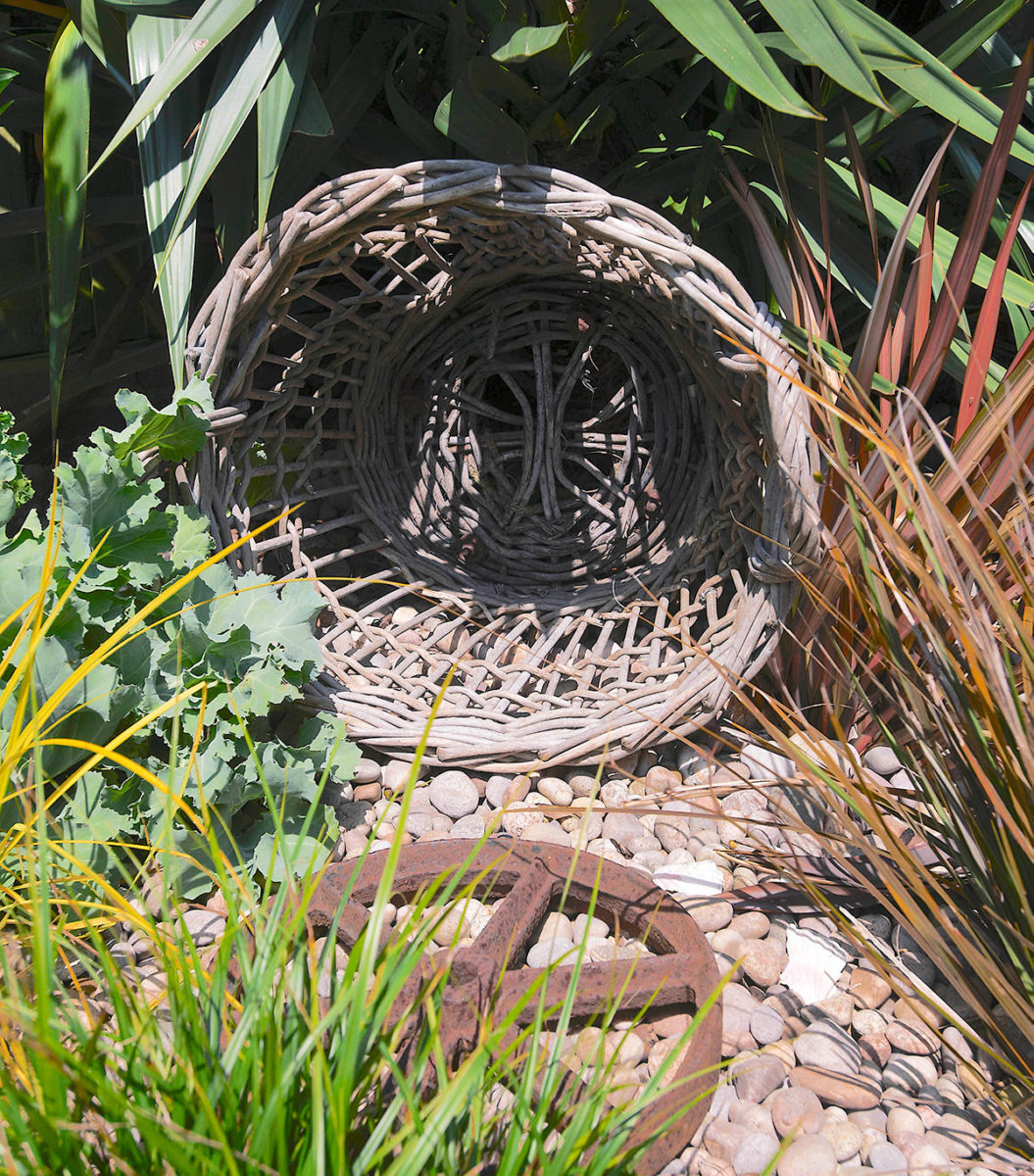 In my garden, the list of things evoking memories for me is pretty endless. There are the two ceramic poppies, from the Tower Of London, back in 2014, purchased in memory of my Mum's brother, my Uncle Geoffrey, who I never met but am named after. Two metal urns purchased for me for my 40th birthday by friends no longer with us. A beautiful rambling rose, Vielchenblau, bought by a friend for my 50th birthday, back in 2003, the lifebelt hanging in the garden, that hung in my parent's pub for 25 years upon which my Dad had painted "Ron & Barbara", their names. The list goes no but I have to stop somewhere!
One final special memory for me is the book I have created, 190 pages crammed with images and words, detailing the before and after views as I created the garden from scratch. It too can be accessed on the "my writings" page of my web site!
I'm sure all readers will have their own special memories in their own gardens, but, if not, why not go away and create some!