In his new book offering "50 years of gardening wisdom", Down to Earth, published by DK in October, Monty Don said: "Trust hand tools and physical labour. We have forgotten how mountains can be moved by hand. Plugging away is extraordinarily effective. You do not have to use machines. Scythes cut grass very well."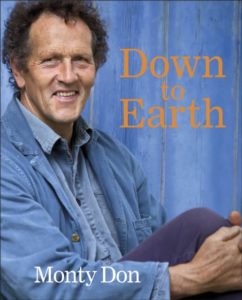 Garden Industry Manufacturers Association director Vicky Nuttall said: "I don't think many gardeners out there are happy to get scythes out and cut the lawn. They're not going to do the job as well as a lawnmower. I'm not saying there's not a place for hand tools and hard work, but going back to Poldark days is a bit much. Anything that makes gardening easier and more accessible can't be a bad thing but this is going to put people off, and that's not what we want."
Fantasy
Lawnmowers were invented in 1830, and lawn expert David Hedges-Gower said: "I am sure the book is excellent and the more books on gardening we have the better as a rule. And the points made are most likely insightful, educational and fun, but in the regard of everyone cutting their lawns with a scythe, this really would be fantasy and not a reality.
"Of course scythes cut well and have done for many years, however, not everyone has that sort of time on their hands. This flies in the face of every single comment made about lawns being too time consuming. Many of those gardeners who would have time for this would be of an age when they shouldn't really be swinging scythes around! They would be not only a danger in modern society, but also a massive step backwards when technology has taken massive leaps to help us whilst taking the environment into consideration. The technological advances in mowers, for example, these days means that all lawn lovers can cut their lawn in the correct manner and safely."
Garden Centres Association chief executive Iain Wylie said: "I'm not sure how that's progress. You'd struggle to get stripes with a scythe and I'm not sure down the Emirates stadium they would be too keen on using a scythe before a big match. If the biggest worry in environmental diminishing resources is lawnmowers, we've come a hell of a long way with cars, trains and lorries and everything else. I don't see the logic in that."
National Lawnmower Museum curator Brian Radam said: "Scything is a backbreaking job and we're living in the 21st century, not in the 1830s. When lawnmowers were invented in 1830 they said they would do the work of eight men scything and six women and children collecting the grass. Anything with a two-foot blade, you have to be careful. If you want to cut environmentally use a hand-push mower, which is quiet and good exercise. And robot mowers are the thing now. Scything is more for hay or very long grass in countries overseas, like India. I don't see the scythe coming back."
Industry figures
The British Agricultural and Garden Machinery Association says the total domestic market for outdoor power equipment was £710 million in 2016, an increase of 4% on the previous year.
Volume sales ended up being 0.4% higher than the previous year at just under 1.7 million units. The overall value of lawnmower sales grew by 6%; partly due to consumers switching to higher priced cordless and autonomous robotic mower models and partly due to higher market prices set early in the year as a result of raw material cost pressures.
Sales of mowers are estimated to have been worth more than £250 million in total, with volumes in the region of 36,400 petrol ride-ons, more than 340,000 petrol pedestrian units and some 1.22 million electric units. In addition, there were about 7,000 commercial mowers valued at below £80 million and 2,700 compact and sub-compact tractors worth in the region of £40 million.