Blog seems to be the buzzword of the momen. The actual word blog is a shortened form of the word 'weblog', which as it suggests, is a kind of online diary. People have been blogging for many years. However, it wasn't until social media boomed that bloggers had a more visible way to promote their blog to the masses, rather than just an audience of friends.
Like with Facebook and Twitter, blogging has also transformed the mainly solitary activity of gardening into one where you can feel involved and included, and can share experiences with other gardeners, pick up tips, and so on. Those in the gardening world blog in a number of different ways; they may blog about their own garden and it's journey through the seasons, or perhaps they blog about their thoughts and opinions on a range of gardening subjects, you may even strike lucky and find someone who blogs from behind the scenes on their job.
The 'web log' feel of a blog means they are both easy to write and easy to read, too. You don't have to be a journalist or anything near it in order to start your own blog. It can be written in pure diary format, the natural spillage of your thoughts onto the screen, with an injection of pretty pictures. The more informal the blog is, the easier it will be to read and digest.
My own blog – Plant Hunter –  gives an insight into my day job at Thompson & Morgan, as I scour the globe for new and shiny plants. Every so often, I'll also take on a gardening subjects from a different angle, check out my posts about 'stitching plants' and 'double annuals'.
How do you find blogs to read? Actually, the first place to start could be by getting into twitter. See my blog about how to get the most out of twitter. Most bloggers use twitter as a handy news channel, which helps them let their readers know when a new blog is ready to be viewed. Once you've viewed a blog once, you can click on a subscribe button and to kept informed of new posts too.
5 of my blog picks
Garden Weeds and Words: www.gardensweedsandwords.com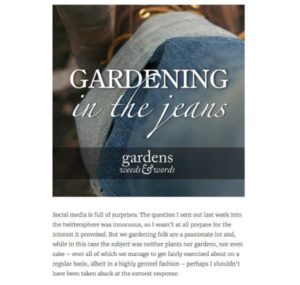 This blog is a playful look at gardening from all angles by Andrew O'Brien. Recent blog posts have covered gardening clothes (as he posed the question of 'do you ever garden wearing jeans?' to his twitter audience) and a blog entitled 'You snooze, you lose'- which was a fantastic post pointing out that February is NOT a time to rest in your garden.
Fennel & Fern: www.fennelandfern.co.uk
If you're not seduced by the photography used on this blog site, then you certainly will be by the words. This site is actually a collective, so features blogs from more than one writer. Recent posts have celebrated Hamamelis in the winter garden, as well as suggested ways to inject a contemporary feel into your gardening containers.
Blackberry Garden: www.blackberrygarden.co.uk
I'm not quite sure how this lady does it, but Alison Levey holds down a high-powered day job, yet still finds time to manage a huge back garden and write about her experiences in it. A honest view of an everyday back garden, with beautifully candid photos, it really is a good relaxing read. I especially like her yearly Plant Awards too.
The Unconventional Gardener: theunconventionalgardener.com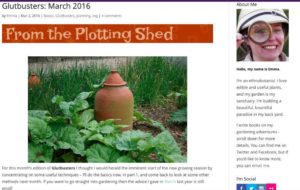 Fascinated by unusual edibles, Emma Cooper's blog is an exhilarating read, and her writing style makes the most scientific subjects sound super simple! Follow her journey as she discovers new and different food crops.
The Middle-Sized Garden: www.themiddlesizedgarden.co.uk
This varied and informative blog by Alexandra Campbell tackles subjects that really resonate with its audience, such as 'how to take beautiful photos of snowdrops' or 'how to make gardening easy for commuters'. It's very cheerfully designed too, lots of colour and gorgeous photographs.