Gardening presenter, writer, author and horticulturist, Richard Jackson has been honoured with a prestigious award at the Garden Retail Awards in London, where he received a Lifetime Achievement Award in recognition of his work and contributions to the garden industry.
Matt Appleby, chairman of the judges said, "Richard is a very worthy winner of this prestigious award for his varied and immense contribution to the garden retail industry, which includes setting up garden centres with special training for disadvantaged people, forming the Greenfingers children's hospice garden charity and the Garden Press Event and for his work on TV and in the media."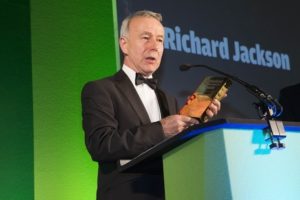 Richard Jackson's award was the culmination of the Garden Retail awards at the Connaught Rooms in London, attended by more than 300 garden retail professionals. The Garden Retail & Garden Industry Awards recognise and celebrate the very best of the garden retail and wider garden industry.
"I feel very honoured to receive this award," said Richard "I've loved being part of this wonderful industry over the past 40 years. During this time, I've had the privilege of working with some amazing people and I'm so grateful to them for all their encouragement, help and friendship. But I'm not hanging up my wellies quite yet. There's always something new and exciting happening in gardening, and I want to continue to be part of it"
Richard's career in the garden industry has spanned over four decades; after completing his degree he started work at Hillier Nurseries, where he worked with Roy Lancaster, "he ignited my passion for plants" says Richard. Next came a stint at Fisons where he learned about compost and fertilisers and then he worked at Notcutts before setting up at garden centre in Camden.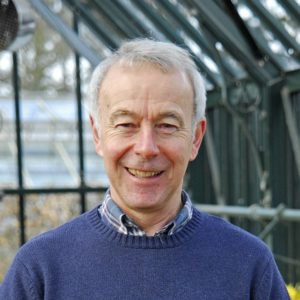 "It was a joint venture with Camden Council and the Wellcome Foundation for long-term unemployed youngsters. I was given an overdraft facility of 100K and a plot to set up a garden centre and recruit long-term unemployed youngsters. It was among the best times of my life, we took these youngsters on and in two years they all got jobs in garden retail, and I'm in touch with some of them still. It had a real buzzy feel to it, and it was like Jamie Oliver 20 years ago, all the money was being put back into training projects."
Next came the Fulham Palace garden centre and then one at the Alexandra Palace. Richard was the gardening columnist for the News of the World for nearly ten years and started working as the gardening presenter for QVC in 1994. He founded the Greenfingers Charity in 1998 and since then the charity has funded and helped create 49 gardens and outdoor spaces at children's hospices in the UK. The gardens give the children and their families a chance to spend time outdoors to enjoy the natural environment and benefit from its therapeutic effects.
In 2015 Richard launched his own website, Richard Jackson's Garden which won Best Garden Website at the Garden Media Guild Awards in November.