Award-winning garden designer Geoff Stonebanks offers his hard earned advice on using colour in the garden.
I often get lovely comments from my visitors who fall in love with the colour palette established at Driftwood! I was quite blown away, at a very early stage of the garden's development, by one from someone who visits many gardens, all over the world!
Garden photographer and blogger Charlotte Weychan described Driftwood by Sea as a mini Giverny, with reference to the fabulous garden of impressionist painter Monet.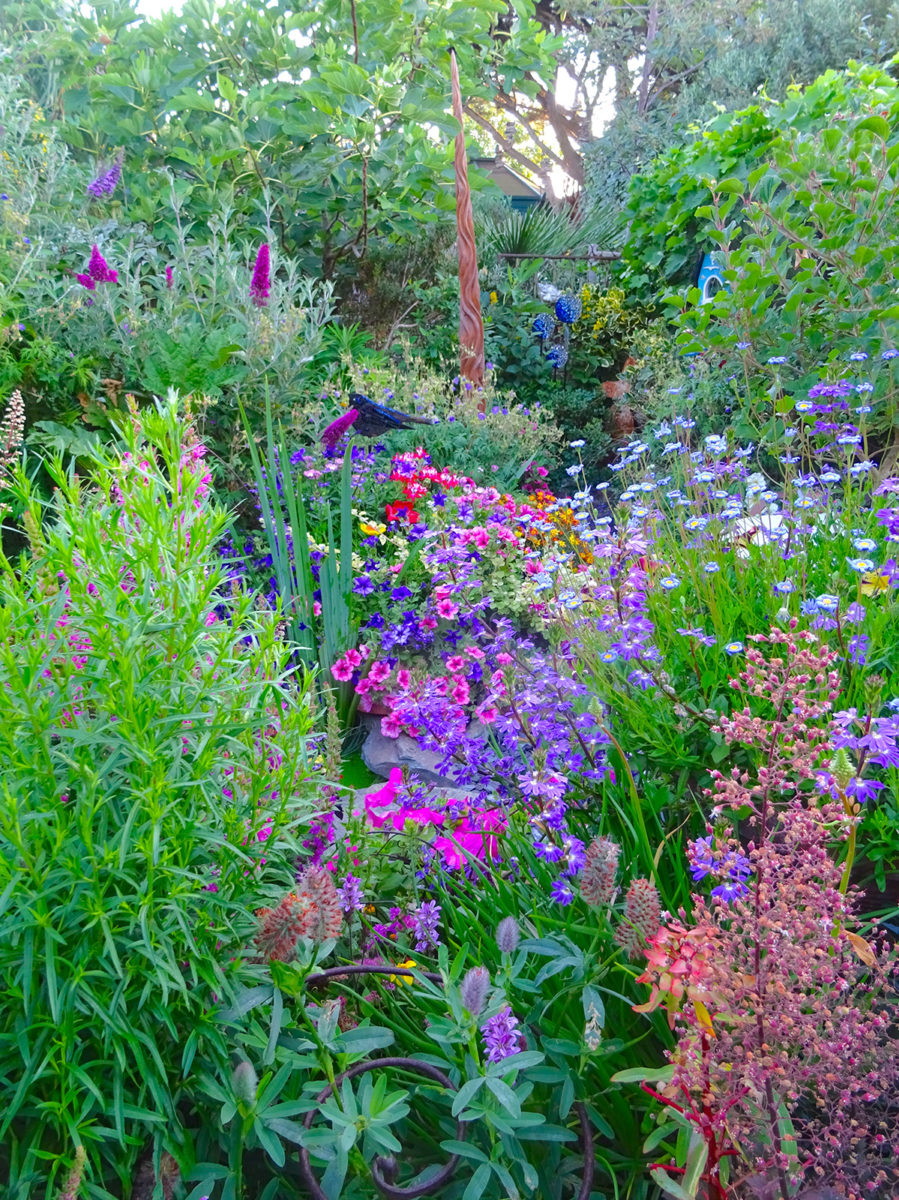 The reality however is far from what it might seem! When creating the various rooms, establishing structure and planting the garden, I can honestly say, I never paid any attention to the colours I was introducing to the plot! OK, maybe I, subconsciously, liked blues and mauves quite a bit, so that probably helped. So this colour effect was easily achieved with some of my favourite perennials like verbena bonariensis, osteospermums or some asters and annuals like petunias and lobelia.
Shades of grey
In terms of favourite colours, I confess I love the colour grey and have many clothes in various shades of the colour, indeed my wonderful office, overlooking the garden is grey, as is my vintage 1950's French desk! In the garden, I bought some vintage French grey shutters to use as room dividers, just to give the allusion the visitor was moving from one space to another. They look quite stunning with old tin jugs and a watering can planted up with lavender flowing out in, front of them. They also stand out around the central steps area with all the containers brimming with colour too. The allium sculptures work well popping out of the rusty metal arch that crosses the central path too. 
It can also help to have pieces of sculpture in the garden and try and position them where they can complement the planting or indeed enhance or accentuate it too.
There is a beautiful green and red ceramic piece by Frances Doherty, perched on a piece of driftwood, which works well in among the euphorbia, geranium leaves and with a conifer behind.
A neutral colour sculpted piece of wood, set in the background, somehow ties it all together. Likewise, the seminal pod sculpture looks great in among the towering flower heads of my Aloe striatula. Both are stunning pieces by Sussex artist, Si Uwins.
Colour co-ordination
So over time co-ordinating the colour has never been a real issue for me, to be honest, I have always bought plants that I like and worried about how they would blend in when I got them home! Indeed, when I visit the nursery every May to purchase hundreds of pounds worth of annuals to plant up, I never have a colour theme in mind. I simply wander around the greenhouses and select what I like from what they have. Once home I experiment with what colours work well together and frequently take risks in putting colours together, that might at first, not seem to work. Let's be honest, any mix of flowers if well-presented look good, well at least in my book as a complete amateur! For me, it is really important for my garden to be an extension of me, not one of some TV gardener or so called expert! I love to over-plant containers and raised beds, so the plants fight for survival and the mix of interwoven colour becomes a magical image or type of impressionist painting. Making sure you feed the plants well to encourage this growth is important. For the last 5 years I've used Flower Power. 
Film set
I've always said to visitors and journalists alike, I feel like I'm dressing a film set when I prepare the garden for visitors and colour plays a significant role in that! A few years ago I added a small Dutch man ornament (it was an old fireside broom and shovel piece with accessories missing) I just love the colour and form. Using this as a focal point, I created a small setting in a corner of the garden alongside an old windmill a friend had given me. 
I also have many pieces by a local garden sculpture creator, Paul Cox, including three rusty fish that always look great when set swimming through appropriately coloured plants.
So, in summary, my philosophy would always be to go with your instincts when it comes to colour! My container colour themes change every year, simply based on what's available at the nursery at the time of my visit! Enjoy experimenting until you find what works for you.