Late summer and early autumn is a sensational time in the garden. Gardens are loaded with seedpods and fruits, ornamental grasses are at their peak, and late-flowering perennials are offering a flamboyant display. Often the weather is warm, and the light is exquisite.
Garden Visiting
If you're one of the those who think it's too late to visit open gardens, then think again. Some of the most memorable garden visits I have made over the years have been in this fabulous month. It's the month that everything comes together and those that grow their own are surrounded by edible rewards. Being as it's harvest time of so many crops it should be a season to celebrate success and a season to look ahead and start harvesting seed for the following year. With bulb planting fast approaching shopping for spring flowering bulbs is a task that I look forward to in September – I'm like a kid in a sweet shop!
Gardens of note to put on your wish list to visit this month are Knoll Gardens in Dorset with its outstanding collection of ornamental grasses and the Picton Gardens near Malvern. Both are exceptional gardens that demonstrate how colourful and varied planting displays that are well planned can be at this time of year. I challenge you to visit either of them in September and leave without filling your boot with perennials.
Bright sparks
It's in this month that some of the tallest of perennials put on a show. In my borders, eupatorium are head height, as are grasses such as Stipa gigantea and the bright yellow flowering Rudbeckia laciniata 'Herbstsonne'. The colour palette of the month are dark purples jostling with oranges and bright yellows. These are joined by the occasional splash of shocking pink from plants such as Nerine 'Zeal Giant' and Anemone hupehensis var. japonica 'Pamina' (Japanese anemone).
Shock of colour
The plants of September seem to have far more confidence than those belonging to other months. It's as if they set out to shock us with their bright colours on purpose. Dahlias lead the way when it comes to drama. A favourite of mine is the single 'Happy Single Flame' with its dazzling pink and yellow petals. Add to this a dash of bright orange Dahlia 'David Howard' and the deep maroon flowers of Dahlia 'Karma Choc' and you'll have all you need to put on a party or set the picture for an Indian summer. Red hot pokers are a must. Their impressive flower shape adds drama to any planting scene. There are lots of these fiery plants to choose from but my favourites include the yellow Kniphofia 'Bee's Sunset', the giant Kniphofia rooperi and the limey green 'Percy's Pride'. My top three are perfect for the middle of a border.
Border fireworks
Other fine specimens for the middle of a bed are autumn flowering asters such as Aster x frikartii 'Monch', Helenium 'Sahin's Early Flowerer; and Rudbeckia fulgida 'Goldsturm'.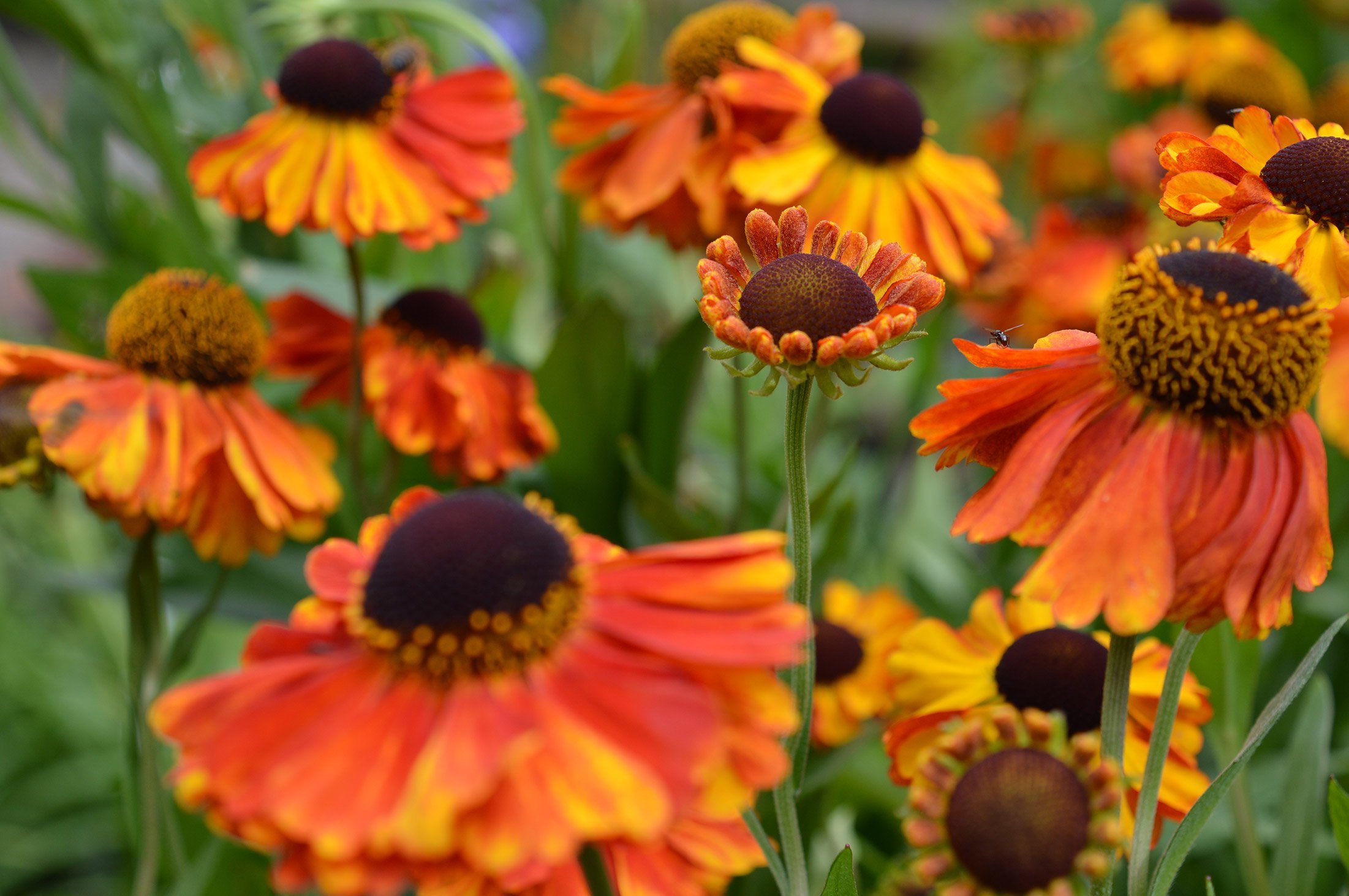 When it comes to annuals there's no shortage of interest. It's fair to say that some potted displays are nearing the end but cutting gardens continue to give. Zinnias, cosmos and cleome show their stamina by flowering into October. If my list of loveliness isn't enough to convince you that September is to be savoured then maybe a reminder that elderberries, most apples and damson are ripe for picking will do it. You are fast approaching the tastiest month with crumbles, sauces, chutneys and jellies – what's not to like?