A delicate dusting of frost is certain to enhance the look of a winter garden. I for one can't wait for the wonderful photo opportunities that an icy garden brings. Ornamental grasses, neatly clipped box hedging and an untrodden lawn all sparkle under their transparent, glistening blanket.
Frost risk
However, for those who garden in a frost pocket this twinkling display is not such a welcome sight. In low-lying gardens where cold air gets trapped plants are at risk. At Stockton Bury, where I garden, the Dingle Garden has been created in what was an old quarry. The large gunnera that is the crowning glory of this part of the garden in summer is at risk from frost during the dormant season. It is planted in what can only be described as a bowl and in winter it's the coldest part of the garden and a place where the frost takes an age to thaw. It's the perfect example of a frost pocket. To keep this giant plant alive we protect the crown with its upturned leaves.
Get the better of frost
For those with a similar growing environment all is not lost. Fantastic gardens can be created in these chilly spots. RHS Rosemoor in Devon is a frost pocket, which only goes to prove that a chilly spot can be an exceptional garden.
If you aren't keen on lifting or protecting plants the trick is to plant the hardiest of specimens – most of which are British natives. By avoiding early flowering trees the risk of having much anticipated spring blossom frost damaged is reduced. For example, Magnolia 'Apollo' is a late flowerer that stands more of a chance in a frost pocket. Avoid early flowerers such as Magnolia stellata or you'll spend many a chilly day running down the garden to cover your prize specimen with frost protection fleece.
Tender plants
For those who have a small garden that is one big frost pocket all is not lost. You can still enjoy tender plants in summer. When tending a garden such as this you need patience. When all your gardening friends are planting sweet peas and hanging their summer baskets in May you would be wise to hold off until June. A heated greenhouse is a very sensible investment if you're planning a tropical border of banana plants and cannas. To ensure their survival from year to year they should be lifted before the first frost and overwintered in frost-free lodgings. Only once all risk of frost has passed can they return to the garden.
Improving soil
Spending time improving your soil is bound to increase your success rate in a frost pocket. Cold and wet soil is far more fatal for plants than just a cold soil. A waterlogged soil will freeze solid and cause untold damage to many plants. In a well-drained soil there is no reason why bulbs such as nerines and even herbs can't survive and thrive. Their chances are of course increased by applying a generous layer of mulch as a warm blanket in autumn.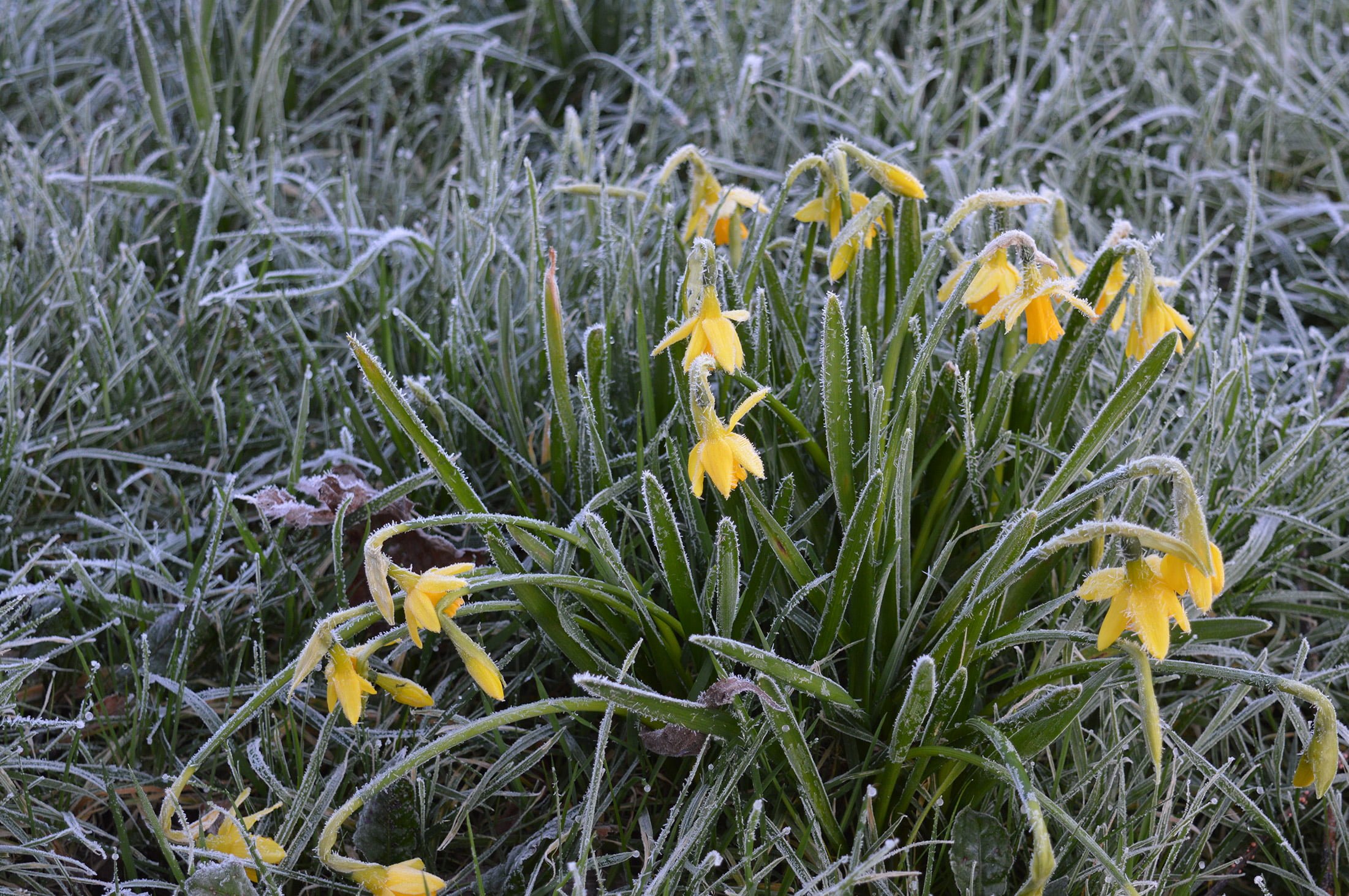 Never apply a mulch when the soil is cold as this will simply trap in the chill – pick a sunny day. Watching the weather forecast will become a useful habit for frost pocket gardeners. Listen closely to the local weather forecasts and plan your planting and lifting times around their daily weather advice. Whatever the weather brings this winter I promise that with a little planning that chilly corner of your garden will offer a hot to trot display this coming summer.