Visitors to the 2016 RHS Chelsea Flower Show are in for a treat on every level. TV gardener Diarmuid Gavin is being sponsored by top department store Harrods for a "brilliant" garden at RHS Chelsea Flower Show 2016.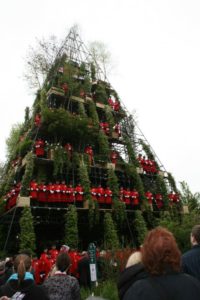 Gardening's 'enfant terrible' Diarmuid is designing a garden for Harrods at the infamous triangle site within the Royal Hospital Grounds at Chelsea. It's a winning spot for Diarmuid, where he won most creative exhibit with the tallest ever garden at Chelsea (80ft), his seven-storey sky garden, stepped pyramid Westland Magical Tower Garden in 2012.
Famed for creating the unexpected with his ambitious, outlandish designs, the Harrods garden has been described as "brilliant – everything you would expect from a Diarmuid Gavin garden" by those who have seen the design. Diarmuid has previously designed a roof garden for Harrods in Knightsbridge, London this year. The Irish designer once said former Harrods owner Mohamed Al-Fayed shut the department store to host him a party.
Harrods had a 'fresh' small garden at Chelsea 2015 with a perfume theme, designed by Sheena Sheeks.
Commemoration
Meanwhile, 300 000 handmade poppies are destined for display at Chelsea Flower Show, with garden designer Phillip Johnson taking a commemorative project to the event next May to commemorate the ANZAC Centenary, marking 100 years since Australia and New Zealand's involvement in the First World War. It is part of the 5000 Poppies Project from the Victorian State Government. Thousands of participants have knitted, sewed or felted their contributions to remember those that gave the ultimate sacrifice.
Creator Lynn Berry will accompany acclaimed landscape gardener Phillip Johnson, as they take the poppies across the waters and display them for the world to see. "We are so excited about being invited to be a part of Chelsea … it really is the pinnacle of horticultural events world wide," said Lynn.
Designer Phillip Johnson, who won best in show at Chelsea 2013, first exhibited the poppy commemorative garden at the 2015 Melbourne International Flower & Garden Show. He drew upon his own personal family connection to the Anzacs. The letters of his great grandfather, Lieutenant Frederick Johnson of the XXII Corps, who died in the war, are the inspiration behind the display.
An announcement is expected from the Royal Horticultural Society next week.