Millions of Christmas trees will be sold over the next fortnight. Some are real beauties, but others can be right flops. Here's how to choose the best and how to keep it looking spruce.
This year it could really pay you to shop around when buying your tree. Watch out for bargain basement options that may not be quite as good as they should be. Reports suggest there is a glut of cheap imports heading for the UK. Check the leading shoot of your tree. If there's a large gap between the top branches and the lower branches then be aware that it may not be top quality. Christmas tree farms tend to have the freshest trees, while DIY stores usually have the best prices. But it pays to buy early to make sure you get a right cracker!
Buy local and support your Christmas tree grower by buying direct from the farm. You cut down on transport costs, support our farmers and can enjoy the magic of choosing your own tree. Find your nearest British Christmas Tree Grower here.
When you're buying your Christmas tree, look out for the very special Needlefresh trees which support the Greenfingers charity this year.
What shall I buy?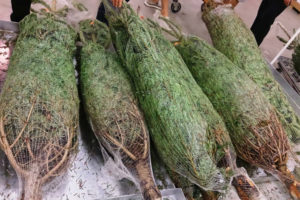 Not all Christmas trees are the same type of tree, here are the most the common species you'll find on sale;
Norway spruce: The traditional favourite – and the cheapest – but it can shed needles by the bucket load unless well cared for. To pick a good one, pick it up and feel the weight. If it's too light, it may have been cut weeks ago. Also bang the stump on the ground. If lots of needles fall , it's well past its sell by date.
Nordman Fir: The best selling non-needle drop trees with soft with slightly scented needles. Look for deep green healthy needles and use the stump test to make sure they stay on. Don't buy them pre-wrapped, they vary so much in shape, you can't tell what it might look like.
Noble Fir: The best of the non-needle drops with gorgeous deep green scented needles. Check the needles look fresh and survive a good thump test.
Blue Spruce: The steely blue non-drop needles are very pretty but also very prickly. The trees can be very short and dumpy so shop around to find the best shape.
Christmas tree care
If you care for your tree properly and it is in good condition when you buy it, it should last for about 4 weeks.
Once you've got your tree home, cut an inch off the stump and pop it in a bucket or a Christmas tree stand that holds water, positioning it as far away from radiators as possible. A tree can drink up to a pint of water a day, so keep the stand topped up right through Christmas and the New Year.
Remember to recycle your tree after the festivities, most local councils will collect spent trees and have them shredded for composting, check your local paper for information.