Christmas shopping is different this year. There's more emphasis on meaningful gifts, gifts of time and sustainable presents. These days, experiences rank higher than extravagant luxuries. The environment is tightly in focus and Christmas is an opportunity to share our love of gardening and wildlife with others.
Whether your family and friends are already seasoned twitchers or have only just started to notice the birds in the garden, bird care kits makes the very best presents.
Make your Christmas present count
Did you know you could give a present this Christmas that could save lives? Our feathered friends need all the help they can get at this time of year and that means high energy food, fast. If you want to encourage friends and family into the wonderful world of their garden birds and help these creatures too, why not give a gift that does both? Richard's High Energy Winter Care Kit, has been specially formulated for small birds and especially the lovely blue tits. During winter, small birds like Blue Tits need to eat as much as 30% of their body weight every day to help survive the long cold nights. That's why high-energy food is so important. Our NEW high-energy kit contains a pack of our top rated bird food; three hanging suet tubs and a suet and mealworm filled hanging coconut.
Gifts for the housebound
Imagine not being able to get out into your garden? You can see it through the window but for some reason you aren't able to go outside. You can bring some of the garden nearer to the house with window boxes and planters. You can have a bird feeding station positioned in view of your armchair and as long as someone will fill up the feeders you can enjoy the antics of the garden birds from your sitting room. But there is another way. Our Dew Drop Feeder, fixes onto your window and could, with some ingenuity be filled from indoors. The birds will quickly find this source of food and reward you with their entertaining feeding right outside your window.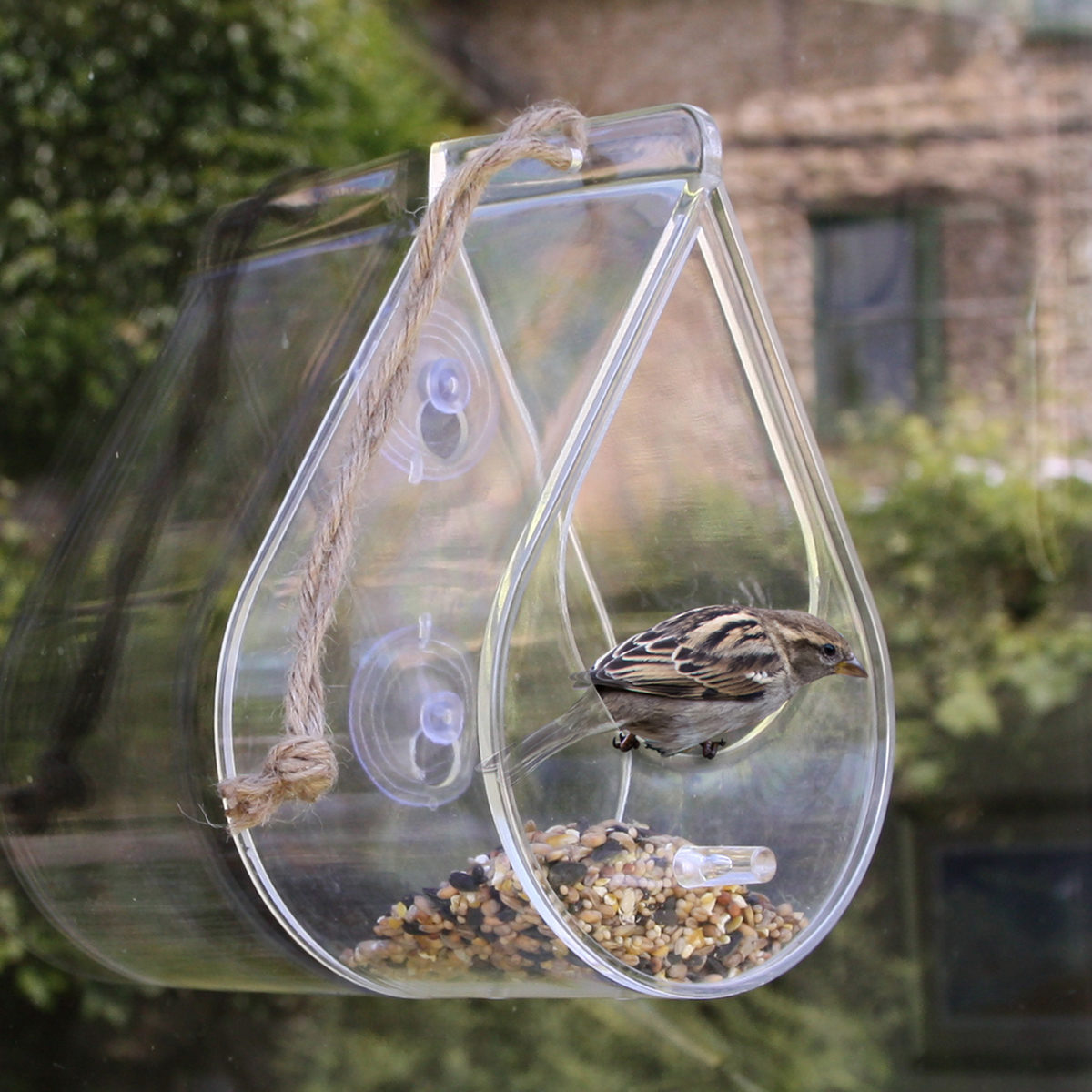 Quality bird food every time
Cheap bird food is false economy for so many reasons. It leaves a mess. The birds don't eat it all. It can go sour and musty in the feeder and is not the healthy choice for your birds. Instead why not treat a bird lover to a real Christmas treat? A pack of Richard's Premium Bird Food makes a perfect Christmas present and now you can buy smaller packs that are great for gifts and a perfect way to see for yourself how good it is. It's packed full of top quality ingredients each chosen for different nutritional reasons and to suit different species of garden birds. For a great present that offers plenty of experiences and will fuel the entertaining behaviour of the garden birds why not gift a feeder and some bird food?
Contemporary living
Are you shopping for a flat dweller or millennial with a neat contemporary space? That doesn't mean they can't welcome the birds to their balcony, terrace or garden? Choose the award winning ceramic Birdball Belle Feeder. It's attractive, stylish and ornamental offering a modern design and a practical way to feed the birds. It's perfect for Richard's High Energy Suet Balls, so you could upscale your gift marrying the Belle Feeder with a pack of suet balls. What a fantastic present. And who knows, you might spark a new hobby or interest that doesn't need Wi-Fi.
Not just for Christmas
You might just want a thank you gift for a neighbour who fed the cat? Or maybe you've got some youngsters coming over and you need an appropriate gift. Not everything has to be digital, virtual or downloaded. Wildlife is a great way to get all ages outside and looking at nature. A bird house positioned now in the depths of winter will take on the ambience of your garden and lose it's just new aroma and before you know it there's a nest of eggs, a family of chicks and the garden is full of fledglings. It's a gift that lasts. It ticks all the boxes offering experience, contact with nature and supports wildlife with a shelter and nest site. Check out the lovely Tea Pot nester, it's perfect for robins and a fun gift for all ages.